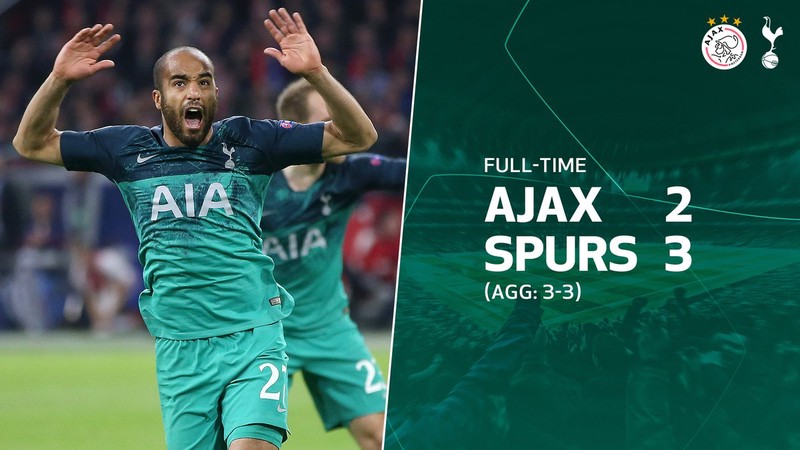 Ajax manged to do unimaginable and has been eliminated from Champions League after 3:0 lead in aggregate after 3/4 of encounter with Spurs. Hero of the night was of course Lucas Moura who took the ball home with 3 goals which forced Poch to start crying near out line in 95th minute. Brazilian fired a missile just few seconds before final whistle in 95th minute to send Ajax player for eating grass on own stadium and forced Dutch fans to helplessly throw beers in agony on Spurs reporter near the goal.

I saw some incredible decisions and later bravery of Poch when he sent all in attack leaving a lot of space for counter attacks. Incredible decision was to put hydrogen bomb Trippier to mark De Light at set pieces despite he is for 2 heads lower than Dutchman. Reward came quickly in 5th minute and Ajax took the lead. Son hit post, Spurs could not score a goal and looked like against Bournemouth good in midfield but helpless in front of goal. Eriksen jumped on my nerves when he easily pass to Onana from 100% chance latter and forced me to re tweet how he does not care as he is already in Madrid (not in meaning of final of Champions League but transfer). Then hydrogen bomb exploded again and lost the ball and didn't even bother to run backwards after so we saw Zyeh scored from great chance for 2:0. I thought Spurs are done at that moment and wondered why I put just 100 SCR on 1X on the game why I didn't sell flat buy SCR and put all on Ajax. I was also upset that my black magic is not working on Tottenham like it is working against Arsenal. I asked spurs channel on twitter what th f.... is going on why is Trippier on De Ligt, why they send long high balls on Lucas who is not very tall.

At half time Poch did brave thing and substite Wanyama with tall Llorente and send all 3 Son, Lucas and Llorente forward. There is a thought saying 2:0 is easiest result to catch because those who lead relax and when they concede first they go in panic mode. Spurs need quick first goal and Lucas provided that by mercilessly abduct the ball from ballet player Delle Alli in chance and fired up good shot which ended behind Onana! Soon after bear Llorente missed 100% chance from 5 m alone showing what kind of player he really is, but Ajax player managed to remove the ball from Onana for some reason and Lucas took it went little backwards and after few moves made position for shot and fired up a missile again in the net. With 2:2 and away goal rule Ajax players started to panic. They could not make finish good counter attack. They hit post on one, fired some shots to Lloris or wide of goal and decide to do some time westing. Poch then finally replaced hydrogen bomb Trippier and Rose and put Lamela and Davies on the pitch and started tactic called "all or nothing". Only defending mode and time wasting hit Ajax players hard. At one corner after 90th minute they didn't want to cross, but to hold the ball in Tier Anry's style near corner flag, but Tadic was to stupid and let the ball out of play to quickly. Last seconds approached and my vision for first leg came true and that was long ball toward Llorente who finally somehow deflected it toward Lucas who run toward two Ajax players and found little gap between them to fire 3rd missile which hammered right into the net! It was 94:57 or so and injury time was 5 minutes.
Celebration of goal was awesome, Poch cried near sideline, it was glorious moment for history. Lucas deserved to become new Marvell hero. His goal also cured Hary Kane who ran in the field like he is not injured.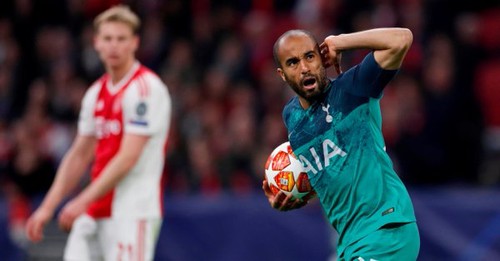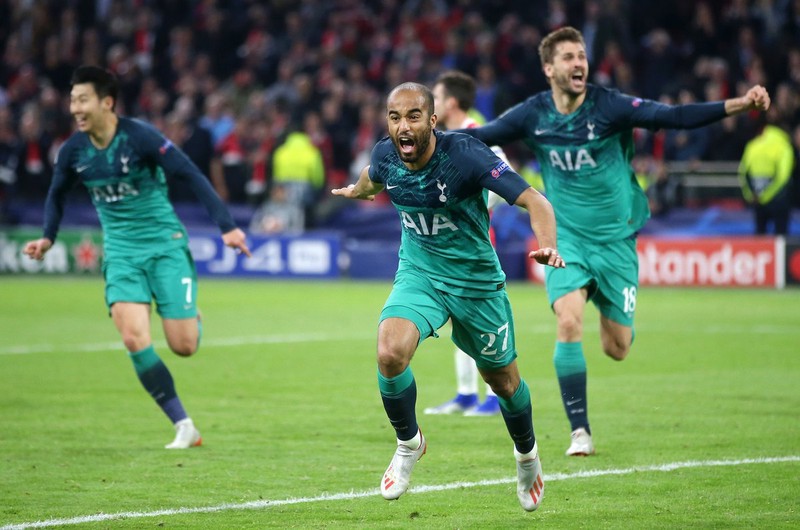 I must confess that I thought Spurs have been done after half time and that they are going to concede 3 or 4 until the end scoring 0. I am happy I was wrong and got to exited that I could not sleep hour after the game. And one thing for the end if I continue to do this sort of black magic on betscorum I am afraid I am turning into some Warlock. LoL
Someone from stuff gave himself little vent after the game in dressing room imitating some hard porn scene or horse riding and that was LOL. Now in Madrid Spurs will face Liverpool club which won 2 games against them in season, but if Hary Kane recovers and with better marking on set pieces than today it could be interesting. Liverpool hardly won at Anfield with 2:1 thanks to Alderweireld's own goal. Spurs showed they can play with this club even game. I hope that will be in Madrid. I just hope Trippier won't mark Van Dijk at set pieces!