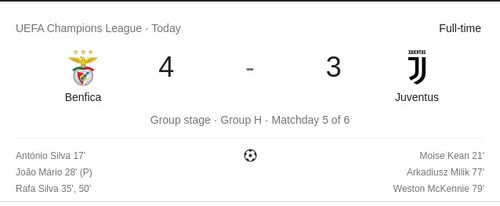 Tonight after long time we saw one match which "returns faith in football". I will just quote commentator of Arena Sport TV who said in 95th minute "And Srdjan Jovanovic will not allow this corner to proceed". I instantly replied of course he will not allow it he's not crazy to ruin such beautiful result of 4:3!
Game was to exciting near the end. Benfica hit the post from dead chance after counter attack, Juventus missed two good chances too. What a wonder oh what a night... Juventus might get eliminated from Europe but they step away in style!
Benfica lead 4:1 at some point but then left back of Juventus started his crossing inside the box show for two quick goals and 4:3. Interesting possibilities are now opening like Sergej Milinkovic Savic arrival in Juventus. Serbian national squad coach Dragan Stojkovic Pixi answered questions about what is Juventus missing with 3 letters: SMS and he didn't mean on messages on mobile phones. :) It's well known Lazio player has high price and after this stage for his arrival has been setup! :)
SMS welcome to Juventus club which return faith in football! You can start learning Juve anthem:
Simili a degli eroi
Abbiamo il cuore a strisce
...
Juve, storia di un grande amore
Bianco che abbraccia il nero
Coro che si alza davvero per te