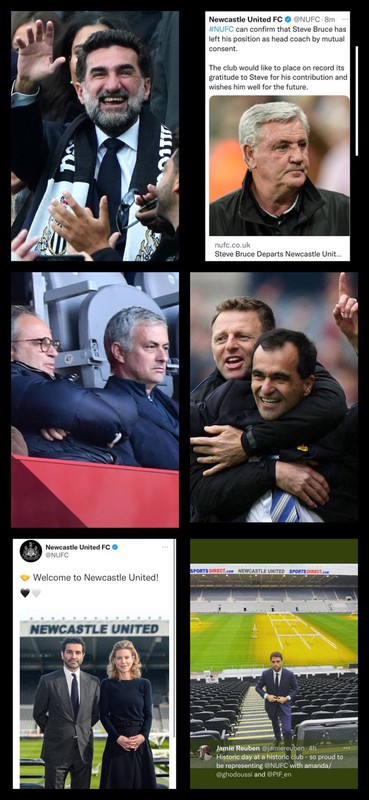 Newcastle United parted company with Head Coach Steve Bruce today by "mutual consent" 13 days after the club was taken over by the Saudi Arabia-led consortium.
The Newcastle United takeover was finally completed on October 7th as the Saudi Arabian Public Investment Fund-backed and led consortium involving PCP Capital Partners Amanda Staveley and Merhrdad Ghodoussi and Jamie Reuben, were given the keys to St James' Park following completion of a £305M deal to buy the club from Mike Ashley was finally ratified by The Premier League to the absolute delight of Newcastle United fans and the chagrin and jealousy of The Other 19 Premier League clubs.
In Sunday's first game since taking over, Newcastle played in front of new Chairman Yasir Al-Rumayyan, who is also Governor of The Saudi PIF and was introduced to Newcastle fans as Wor Flags unveiled their first St. James' Park banner display since beginning a boycott of the club when Rafa Benitez left. The flag contained a song from Jimmy Nail's Geordie anthem, 'Big River' and read: " Because this is a mighty town /Built upon a solid ground /And everything they've tried so hard to kill /We will rebuild":
A tremendous atmosphere inside and outside the ground leading up to the match - Strawberry Place was unusually heaving from 2pm onwards much to the delight of the NUFC Fans' FoodBank, who raised a record £8323, which will be doubled by The Reuben Foundation due to the fantastic generosity of new owner & director Jamie Reuben, who is matching donations from Sunday's game every home game for the rest of the season.
Inside the ground, the atmosphere was electric and the ground reverberated like it did in Newcastle's Premier League heyday under Kevin Keegan and The Magpies duly swept into a lead within 108 seconds when Callum Wilson headed in Javier Manquillo's cross after a smart attack involving Joelinton, Joe Willock and Allan Saint-Maximum:
Yet after looking shell-shocked, Spurs regained their composure and were soon in a 2-1 lead thanks to strikes from Ndombele and Harry Kane and - after the game was suspended to give emergency medical treatment to a Newcastle who had a heart attack in the East Stand - Spurs went into a 3-1 lead before halftime and ran out 3-2 winners.
A Reality Check Yet The Future Is Brighter Than Ever For The Magpies
Newcastle United became the richest football club on the planet overnight as football's longest-running 22-month takeover was finally passed, 22 being the operative number as that's how many times wealthier the Saudi Arabia backers are than the Abu Dhabi group who own Man City, whom they have supplanted as England's richest club owners and whom they will supplant as The Premier League Champions in due course.
No new players can be bought until the January transfer window opens but now the Southampton away game has been moved back 24 hours from January 1st to the 2nd, the tantalizing prospect of buying one, two or three new players as soon as the window is open or at least feature on the bench becomes a possibility for The Magpies. Either way, it promises to be a Happy New Year for The Magpies and the best and most exciting transfer window in many years.
The Spurs game was Steve Bruce's 1000th match in professional football management so it was the right decision - or non-decision - by Newcastle's new owners for him to carry on in the St James' Park hot seat although his perceived affinity with previous owner Mike Ashley despite matching Rafa Benitez's 90pts total exactly over the two full seasons they have both had in charge means his presence was unpopular to some .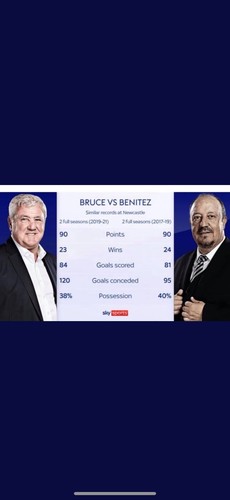 Eight games without a Premier League win now is approaching Newcastle's worst start in their top flight history set in the 2018-9 season by Senor Benitez, whose side went 10 games without a win before finally beating Watford at the 11th attempt, as well as being knocked out of the League Cup to Championship opposition Notts Forest compared to Bruce's elimination to Premier League Burnley, & it seemed his departure was inevitable.
With Crystal Palace at Selhurst Park up next on Saturday before a visit by Chelsea, Graeme Jones has been placed as an "interim manager" in temporary charge, backed by Ben Dawson, Steve Smith and Bruce's two coaches Stephen Clemence & Steve Agnew:
while the search for a permanent manager continues. This is the NUFC succession I would advise Newcastle's new owners to follow in order to ensure continuity, escape relegation this season, kick on next and then cement a successful future:
Interim Manager - Graeme Jones is a man highly-regarded in the game after helping guide Belgium to World Cup Bronze at Russia 2018 as Roberto Martinez's right-hand man from their Wigan days, where they won the FA Cup together, but who really shot to prominence in England in 2021 when he was parachuted into St. James' Park to give a shot in the arm to a Newcastle United side who had started the season well but were deep in a mid-season malaise after form dipped following a bout of Covid.
A first win in 13 games followed against Everton and Newcastle ended the season on Champions League form with Jones seen as the catalyst and as a result he was recruited to Gareth Southgate's coaching team before they led England to The Euro 2020 Final. Has been mooted as Caretaker Manager in his own right but after struggling in the Manager's role at Luton, may be suited to a no. 2 role and would thrive best with a manager above him.
Next Permanent Manager - Roberto Martinez - Belgium - £2M Release Clause

Spaniard Martinez is an experienced Premier League manager with Wigan and Everton who has worked extensively with current Assistant Head Coach Graeme Jones in both the Premier League where they battled relegation constantly with Wigan and won The FA Cup before guiding Everton to their best Premier League finish of 5th in 2013/4 & back into Europe and also took the Belgium national team to 3rd at the 2018 World Cup.
The Geordie coach was no. 2 to Roberto Martinez at Wigan Athletic when The Latics, after seemingly being in the bottom 3 of the Premier League all season, would come alive in the final third of the season & win the games and points needed to stay up.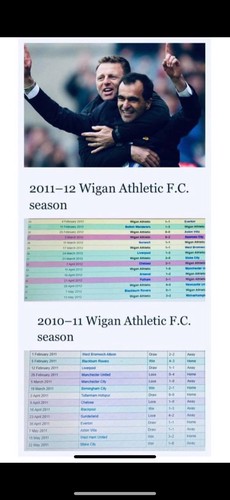 This was most spectacularly in evidence in the 2011-2 season when Wigan won 8 of their last 14 games and drew 3, beating Newcastle's high-flyers under Alan Pardew 4-0 to dent any Champions League qualification hopes that season as well as Liverpool, Manchester United and Arsenal to win 27 of their final 43 pts total and finish 16th.
It was an improved repeat of the end to the 2010-11 season when Wigan won 20 of their final total 42 points total in the last 14 games of the season winning five games and drawing a further five to finish 16th on 42 points beating West Ham on the final day of the season partly thanks to a free-kick from former Newcastle star Charles N'Zogbia.
Martinez plays attractive football and has a habit of picking up results against the top teams which can stand Newcastle in good stead with a daunting fixture list until January while he is currently Belgium manager, having failed narrowly to guide them to success as both World Cup Russia 2018 and Euro 2020 with the Red Devils' Golden Generation, an opportunity to return to club management at the newly richest club in the world would surely be too good to turn down with Qatar 2022 15 months away especially with his new inside track with the Belgium stars of tomorrow.
Dream Permanent Manager & Trophy Winner - Jose Mourinho - Roma - £5M
The Special One needs no introduction but its his special relationship with his football mentor, Sir Bobby Robson, that connects him with Newcastle and a Destiny at St James' Park. After starting his football life and apprenticeship as Robson's interpreter at Porto and Lisbon, 'Little Jose' followed Sir Bobby to Barcelona as Assistant Manager before striking out on his own as a Manager with Porto - and how.
Quickly winning the Portuguese title, UEFA Cup & Champions League, he christened himself 'A Special One' at Chelsea winning two Premier League titles in a first spell & a third in a second plus further titles at Inter & Real Madrid and a second Champions League in Italy. After 'only' winning The Europa League, League Cup & Charity Shield, he was hounded out of Man Utd so has a sense of unfinished business in English football and where better to re-establish his special status by delivering Newcastle's first top flight title in almost 100 years.
Football Directors - Luis Campo - "The Wizard of Capital Gains"
Newcastle have long been one of the only Premier League clubs without a football director yet that looks set to change quickly with the new consortium as modern top football clubs employ one to take charge of overseeing scouting and transfer policy, finding managers and setting out a long-term vision for the club to consistently follow.
The 57 year-old Portuguese Football Director is a former scout and manager, whose top class football nous was first identified by Jose Mourinho, with a penchant for talent-spotting diamonds in the rough and moulding sides into genuine world beaters winning trophies against the odds as he achieved in French football prising Lique One twice from PSG's clutches at Monaco and Lille. Known as 'The Wizard of Capital' gains, his revolutionary Train 2 Play tactical system wowed football coaches in the game including Mourinho, who employed him at Madrid, and he has plucked the likes of Anthony Martial for £5M - later sold to Man United for £36M, Bernardo Silva for £12M sold to Man City for £44 and the likes of Ricardo Carvalho, Eric Abidal and Dermatir Berbatov for free .
Ominously for the Premier League if Newcastle install him at St James' Park, "the wizard of capital gains" as he known backs himself to do it all over again at other clubs:
"I don't want to appear arrogant, but I assure you I will create other 'masterpieces' like this in my career,"