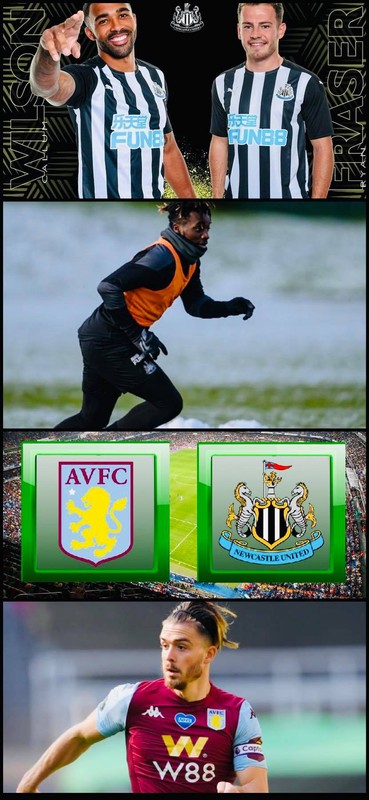 Newcastle United travel to Villa Park on Saturday night to face Aston Villa in The 8pm Premier League kick-off in a rearranged fixture from December and boss Steve Bruce announced in his pre-match press conference the news that all Magpies fans have wanted to hear - that Magpies talisman Allan Saint-Maximin is back and will "play some part" in the game.
Saint-Maximin, Newcastle's game-changer, has been stricken by long Covid-19 since contracting the virus back in early December and The Magpies have taken no chances with his recovery, allowing him to return to France over Christmas and New Year to rest and recuperate and his return can't come quick enough for under pressure Steve Bruce.
Saturday night's game is a rearranged fixture from December after the clash was cancelled following a COVID-19 outbreak at St. James' Park but right now, the Birmingham club are emerging from an enforced Corona Virus break of their own.
Villa Manager Dean Smith echoed Steve Bruce's comments earlier in the season about the frightening nature of the virus and how quickly it can spread and affect even the strongest of athletes:
"It was a scary time because you didn't really want to touch anything because you didn't know how it was being transmitted.
"I told one of the players that he'd had a positive test and he felt fine, he said 'no chance, I'm in a good place' - two days later when I spoke to him he was lying in bed with aches and pains."
If Dean Smith's men - 10 players & 4 backroom staff tested positive - were laid as low by the dangerous virus that is still sweeping the world as Newcastle's were a month ago then they could face a difficult spell having been forced to cancel games against Spurs and Everton and field a Youth side against Liverpool in The FA Cup:
Louie Barry, a Birmingham lad who played for Barcelona briefly, netted against The Reds to prove the magic of The Cup was still alive but they were beaten 4-1 on the night by The Premier League Champions. Aston Villa's First Team were defeated 2-0 on Wednesday night on their return to action and faded as the game went on at The Etihad against Man City in their comeback game in somewhat controversial circumstances with Villa Manager Dean Smith being sent off for arguing against the award of The CityZen's first goal after this:
Following their own Covid outbreak, Newcastle managed to beat West Bromwich Albion at home in their last win in any competition thanks to a great header from Dwight Gayle yet struggled for form and fitness thereafter with serious fatigue issues and went out of The League Cup to Brentford with only one fit centre back available and were run ragged by Leeds in the last 15 minutes, although were denied a penalty with the score 1-1.
Since that win, Newcastle have endured the worst run of form since Steve Bruce took charge of his hometown club in summer 2019 without a win in 9 games although have played some tough fixtures against Man City, Leicester City and Arsenal resulting in losses although managed a creditable point against Champions Liverpool to end 2020.
A very poor performance at Sheffield United in a game The Magpies would expect to win has put Bruce right in the cross-hairs of fans' anger & pundit's poison pens & its up to the Geordie Head Coach to put matters right and find that elusive first win of 2021.
The return of Saint-Maximum will help that cause as the bandanaed star resumed full group training this week giving the squad a boost while Ryan Fraser is available again after suspension will be hoping to get his Newcastle career going after a frustrating stop-start period with injury compounded by that red card against The Blades.
Yet the Scottish international winger-cum-forward can still be a huge player for Bruce & Newcastle this season and just needs a run of games in the side to spark that electric partnership with Callum Wilson that lit up The Premier League at Bournemouth:
"Wilson plus Fraser equals Goals" is the magic formula Bruce will be hoping produces the goals, something Newcastle have found hard to come by this season and could do with a injected supply from those two and a return to the set-piece threat of last season that netted the side at least a handful of goals of the 50 scored in black and white:.
Aston Villa manager Dean Smith has reluctantly accepted a FA charge to avoid further hot water after being sent off against Man City and will be missing from the touchline at Villa Park during Saturday's game yet has insisted he did little wrong saying:
"I will accept the charge of insulting the officials. I certainly didn't abuse them. That'll be the end of the matter.
"I don't really regret it. That's just my way of dealing with the situation - a touch of sarcasm."
He expressed his disappointment with the decision and the result of the game, insisting Villa "are a different prospect" this season and a big part of that has been the continued form of Jack Grealish, who earned his first England Cap at long lost this season as well as membership of the Covidiot club for transgressions last year.
The Aston Villa manager was complimentary about Newcastle's season so far:
"They had a great start to the season with a great result at West Ham," he said. "You could see that the players all look bright and that they've got goalscorers within the team.
"They're just going through one of those periods at the minute. We went through one last season – we haven't had a period like it this season.
"You're just waiting for something to kickstart you, and I'm sure it will. We have to make sure that it's not against us."
& is looking forward to returning to Villa Park for the first time in Premier League in 2021:
"It will be good to be back at Villa Park," Smith added. "We haven't been there in a while, so we're looking forward to it.
"The last time we played there I was watching at home as our youth team played against Liverpool.
"It will be nice to be there ourselves."
Newcastle will have to try and keep Grealish quiet as well as Ross Barkley and the emerging talent of Olly Watkins, the striker signed from Brentford who has scored 6 Premier League goals in 12 games including a hat-trick against Liverpool in the 7-2 win.
Steve Bruce, celebrating Ciaran Clark's new two year contract and confirming Fabian Schar will return while Fede Fernandez will be assessed - elaborated further on the style of play he wants to implement at Newcastle, saying:
"We've defended deep and played on the counter-attack since I've probably been at the club. We've changed in certain games but have still defended a bit deep so my way is to try and get us 20, 30 yards higher up the pitch and that's what I meant."
With Villa already playing attractive, attacking football and Bruce desiring to, it could be a cracker at Villa Park with some of The Premier League's most maverick talents on display in both strips and should be a Saturday Night Live to remember.
Prediction - Newcastle 3 - Aston Villa 2 - Allan Saint-Maximum winner off the bench.