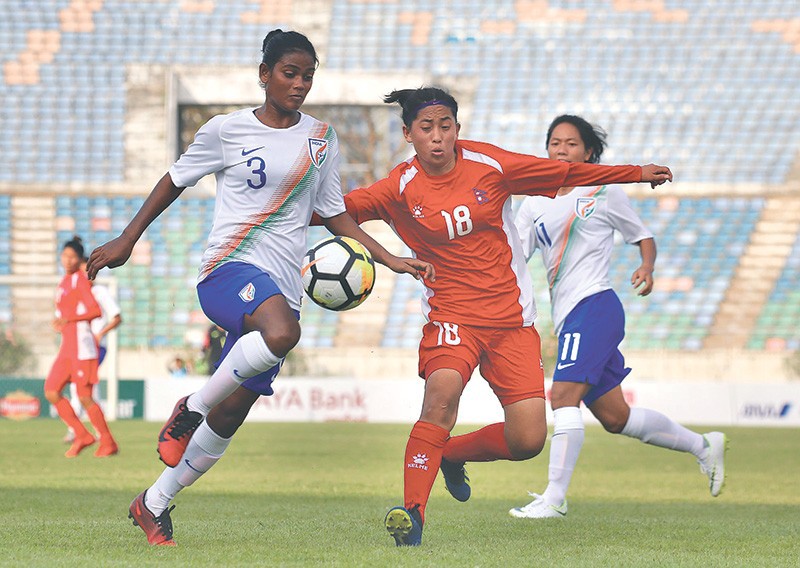 In today's post I am here with female footballer of Nepal, Manjali Kumari Yonjan.
She seems aggressive in the field with her positive energy. When she was 8 years old, her mother travelled to Lebanon for foreign employment due to economic crisis in her family. Her father Mr. Tek bahadur Younjan was also always out due to work leaving all the responsibiliries to her as the elder sister of the family.
She ha a younger brother and sister. She used to be so busy that she di not had time for the school looking after her brother, sister and home works even though her father used to come home occasionally. In these circumstances, nobody can even guess she would be the footballer of Nepal National Team.
She used to live in Chandranigahapur which is situated in Rautahat District. When seniors used to play football she used to watch with love towards the game. She could't joined the field as there were no female footballers but her life took a U-turn and now she has proved herself as one of the successful player of Nepal National Women's Football Team. In the SAFF women's championship held in Biratnagar, she performed good scoring goals against Bhutan and Bangladesh.
Due to her family conditions, she could not study properly when she was in her young age. Her mother went abroad just for them but still they face difficulty in their home. She handled almost every thing of home and her responsibility towards her brother and sister. After her mother returned home from Lebanon after 3 years, Manjali got time to meet her friends and she expressed her desire to be a footballer to her mother. Her mother was surprised and she denied the proposal.
But she used to play football in her village by making ball with the help of socks. When he senior male footballers saw this, they give her the oppurtunity to play football. While she was playing, she got the chance to represent Rautahat district in the field. She played from the district for 2 years. She used to participate in the tournaments like Ncell cup, Inter School Cup etc.
Three years ago, when she was selected for Under-14 player to represent Nepal National Team then it was her first oppurtunity to wear the Nepal National Jersey. Due to her good performance, Armed Police Force (APF) Club showed interest on her as well.
She used to continuously work hard in order to get selected for the Nepal National Team. One day her dreams became true. When she was enrolled in APF club, she started playing in different leagues inside the country. She was performing well so she was called in the National Team of Nepal. Finally, Left attacking midfielder Manjali was selected and she headed towards India for the SAFF championship.
She was on a debut game against Bhutan. While she played all the games and she scored the goal against Maldives in her debut tournament representing Nepal. Nepl was out in the semis in the tournament. In the previous 3 editions, Nepal reached to the final. The team was unsuccessful this time but personally Manjali performed very well. She is always among the Top 11 players to represent Nepal in the field from that time. She has fans all over the country like me who praises her skills in the field. Now, her mother is supportive to her as well.
She has a dream to win the gold medal in the SAFF championship. If hard efforts like this continues in future, we can expect this from this young footballer. Cheers !