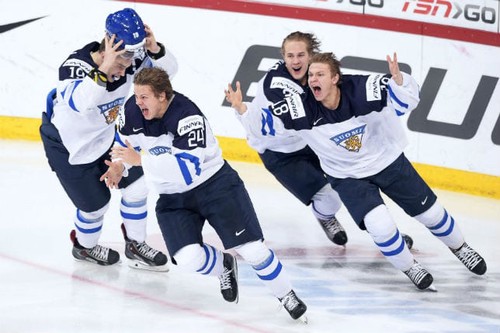 With a surprising victory against the Canadian hockey team, the Finnish national team won the world championship title in ice hockey - their third after 1996 and 2011.
Finland won the Ice Hockey World Championship for the third time since 1996 and 2011. The Finn team celebrated their title in the Slovakian capital of Bratislava, beating the 26-time titleholders Canada 3-1 ( 0: 1, 1: 0, 2: 0) defeated.
But first the Canadians took the lead. In the 11th minute Shea Theodore scored the Las Vegas Golden Knights 1-0. Both teams then showed an open and offensive play and made - atypical for a World Cup final - also a few penalties.
An offensive, a chance-rich game
Marko Anttila of Jokerit Helsinki equalized at 23rd minute. After that, the match became more spectacular. Both teams played courageously and had quite a few chances. In the final section, however, the Finns were rewarded and won in the end: In the 43rd Minute met again Anttila, in the 56th then Harri Pesonen scored the decisive 3-1.
This leaves Canada in the list of world champions just behind the record title holder Russia (27 titles). Most recently, the Canadians, who reached the finals for the fourth time within five years, had beaten Russia 2-0 in 2016 with a 2-0 victory over Finland.
Germany is the only team that has beaten the current World Champion Finland in regular time at this World Cup.