Another match of the Kontinental Hockey League was held yesterday in the capital of Belarus Minsk. Minsk "Dynamo" lost with a score of 0: 3 to Moscow "Spartak". The players of the team from Russia were very surprised when, on their way to the hockey arena, they met a huge column of military equipment moving through the capital of the country in the center of Europe: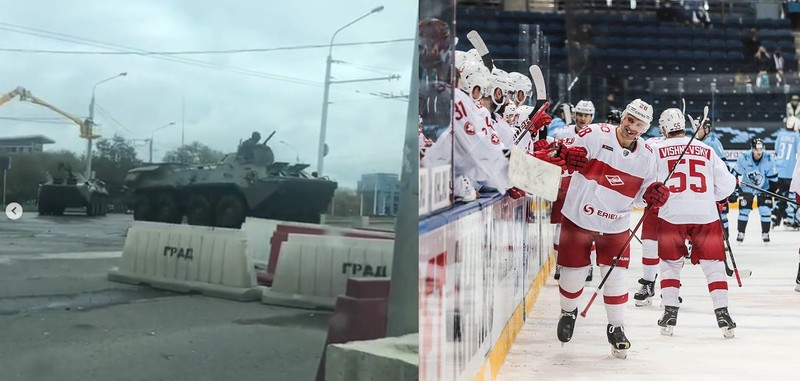 For example, the defender of "Spartak" Andrei Zubarev published a video of the movement of military equipment in Minsk, but also supported the inhabitants of Belarus.
"It's good that we won with not the best game. As the saying goes, two glasses don't smell.

And according to the last video I thought that the Dynamo team was going to the game, but no, it was connected with something else.

P.S. For the people in the Republic of Belarus, "Zubarev wrote.
Scroll through the "carousel" and see military equipment in Minsk:
Match result:
Dynamo Minsk - Spartak - 0: 3 (0: 0, 0: 2, 0: 1)
October 18, 17.10, "Arena-Minsk"
0: 1 - 25 Radil (Yuse, Lehtera)
0: 2 - 33 Lehtera (Kulik, Radil)
0: 3 - 59 Radil (Shirokov, Vishnevsky)
Let's remind that the 71st day passed in Minsk yesterday. Protests began in the country after the August 9 presidential elections, the results of which outraged the Belarusian society.
Yesterday in Minsk, according to various estimates, tens or hundreds of thousands of protesters came out, and despite the peaceful nature of the rallies, the authorities brought numerous security forces and equipment to the streets of the city, used flash-noise grenades and rubber bullets against the protesters, and detained hundreds of citizens. See what yesterday's march looked like:
Let us remind you that the Ice Hockey World Cup - 2021 is to take place in Riga and Minsk in a few months.