1. ERIC CANTONA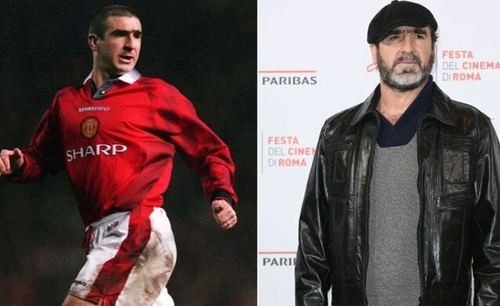 Eric Daniel Pierre Cantona was born on the 24th of May 1966. He is a former international footballer who played for the French national team. Eric played for Auxerre , Martigues ,Marseille , Bordeaux , Montpellier , Nîmes and Leeds United and later ended his football career at Manchester United where he won four Premier League titles in five years and two League and FA Cup Doubles. Interestingly, Eric won the league championship in seven of his last eight full seasons as a professional.
However, upon retiring from football in 1997, he took up a career in cinema and featured in the 1998 film Elizabeth, starring Cate Blanchett , the 2008 film French Film, and the 2009 film Looking for Eric.
Moreover, he debuted as a stage actor in Face au Paradis, a French play directed by his wife, Rachida Brakni, in the year 2010.
2. ANDREW FREDDIE FLINTOFF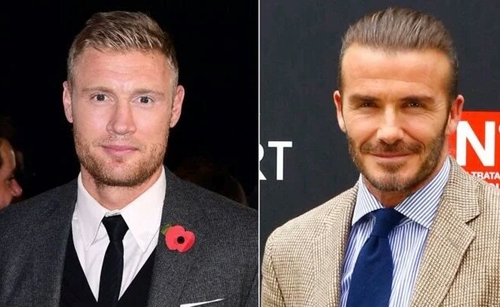 Andrew "Freddie" Flintoff MBE was born on the 6th of December 1977. He is a former international cricketer and current broadcaster.
Andrew played for Lancashire. He was one of the sport's leading all rounders , he served as a fast bowler , middle order batsman and talented slip fielder.
However, Flintoff was consistently lauded by the ICC as being among the top international all-rounders in both ODI and Test cricket.
Unfortunately, Andrew on the 15th of July 2009, announced his retirement from Test cricket at the conclusion of the 2009 Ashes series on 24 August.
Moreover, ever since the retirement of this cricket star, he has been involved with numerous projects, including designing his own fashion range and becoming the face of the brand Jacamo, winning the first series of the Australian version of I'm a Celebrity...Get Me Out of Here! , and has been a part of Sky One 's sports-based comedy panel show A League of Their Own . He now presents ITV game show Cannonball , which debuted on 2 September 2017. Great!
3. GINA CARANO
Another sport star who turned a movie star, is Gina Joy Carano who was born April 16, 1982. She is currently an American actress, television personality, fitness model, and former mixed martial artist. Wow!
However, Carano started her training with straight Muay Thai to competitive MMA, where she competed in Strikeforce and EliteXC . She featured in ESPN The Magazine and also in Maxim .
Leaving aside her sporting career, Carano performed as Crush in the revamped 2008 television series American Gladiators. And has gone after a career in acting, since she retired from the ring.
Moreover, Her film debut was in "Blood and Bone" with Michael Jai White in 2009. She has also featured in Steven Soderbergh 's 2011 action film Haywire , and also in Fast & Furious 6 (2013) and Deadpool (2016). Great height!
4. JOHN CENA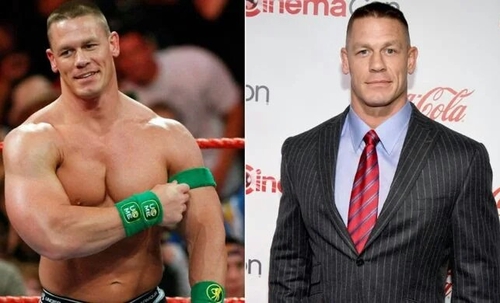 John Felix Anthony Cena was born April 23, 1977. He is an American professional wrestler, actor, rapper, and television host. Cena is currently signed to WWE, where he appears for both the Raw and SmackDown brands .
However, he began his professional wrestling career in 1999 with Ultimate Pro Wrestling (UPW) and was opportuned to win the UPW Heavyweight Championship in the year 2000. Cena signed a developmental contract with the World Wrestling Federation in 2001, debuting on the WWE main roster in 2002.
Interestingly, Cena began playing a generic character in 2002, into a rapper between 2002 and 2004, this earned him fame within the audience on SmackDown .
5. DWAYNE DOUGLAS JOHNSON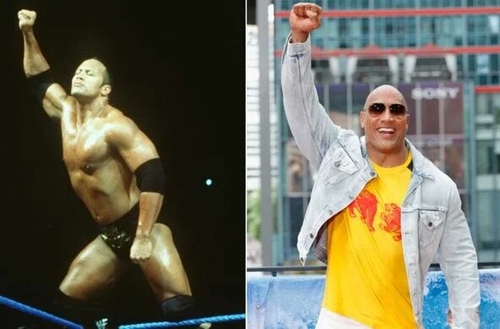 This great actor was born May 2, 1972, by his ring name, he is known as The Rock. However, he is an American actor, a producer, and a semi-retired professional wrestler. His first leading film role was in The Scorpion King in 2002.
Moreover, In 2013 he was listed in Forbes magazine as number 25 in the Top 100 Most Powerful Celebrities. He was the world's highest-paid actor in 2016, and in that sane year, Time named him one of the 100 most influential people in the world.
All credit to the Wikipedia.com