February 4th - 1990 - Sunday
It is a lively Sunday morning, like those unique picnics Sundays. The Sun is just right, the breeze can't be more perfect, the crowd fills with anticipation and excitement as the sacred baseball ground of "Oropeza Castillo" gets ready for a key season game of "the criollitos de Venezuela" baseball little league.
The main protagonists are warming up and stretching. Among them, representing Oropeza Castillo, the almost seven-year-old Jon. This little fella looks a bit nervous, he knows how important this game is. A good friend from school plays for Corpoven —the opposite team— his mom is among the crowd along his younger brother waiting for the overture as their hype increases; it is a heavy weight the average Jon is carrying with, and he knows he has to come up with something big for this game. A loud crazy mom demands it, his school rival expects it.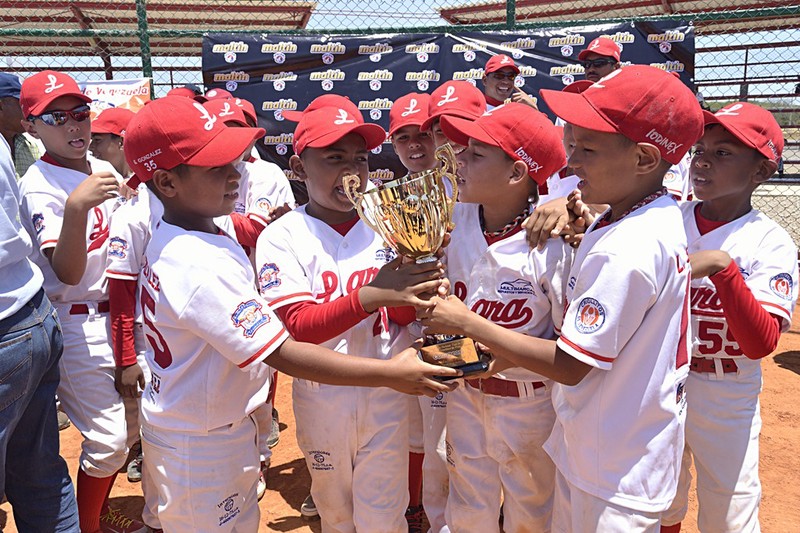 "PLAYBALL" shouts the umpire. The game started slow. Looks like both pitchers brought their A game; Strikeouts, ground balls, and fly balls are pilling up while Jon is melting the bench, as he normally does, you see, the then shy Jon is not a gifted baseball player, his batting average is below 200, his defense is not "as happy as Harry" instead it is as bad as like, whatever, but he always gets a chance to play; He has played every game of the season coming off the bench. He senses how close it is to get in and he cringes.
It is a close game - COR 1 ORP 0 - we are down by 1 run. It's a 5 inning game and if the game ends in a tie, there are no extra innings. Bottom of the 5th, 1 out, one man on first base. The manager looks doubtful while staring at Jon, after a few seconds which seemed like an eternity, he glances at the small boy and says:
—Common sonny gear up and get ready, you're going after freckles!
Jon picks up a bat and he's trembling with fear as he approaches the deck circle. He surely acknowledges the game situation, a mistake might turn into embarrassment, a big hit, on the other hand, a one-way ticket to children's glory. He eagerly observes every fastball the pitcher is throwing. Freckles hits the ball. A slow groundball to the pitcher, the runner on first gets to second and Freckles got out on first. Two outs, and it's Jon's turn at bat...
—Let's go, boy! I'm not working my ass off to see you not hit the ball SWEETHEART—. Yelled the crazy mom—. Smack that shit up! oh, oh-oh, Lets Go Jon!
The small-sized Jon literally "crawls" to the batter's box. It's not hard to tell that the young fella seems like he's pissing his tight little pants. Too much anticipation mixed with expectation. When can a soul have a golden chance to step up like this one? Two outs. The manager personified his best naruto version as he made the signal. —Wait for the first one—. he signaled. Jon, stubborn as a mule, didn't follow his senior's command. His gut tells him the pitcher is coming with a fastball straight to the middle. The pitcher has been dominating the game so far and most of his first pitches were fastballs up in the middle. What little Jon lacks in body, compensates it with cleverness; He absolutely knew what was coming and he's not going to miss it, even if it means disobeying the manager.
Corpoven's slinger slowly started out with his mechanics as he looked fiercely at the home plate. The strike zone is his target though Jon has other plans, the throw is coming...
The ball quickly slides towards Jon yet, somehow, it's all slow-motion for him, being there and now it's the only thing that matters for our hero. He sees the ball as it gets closer, identifies his target, close his eyes and swings like he never did before.
BANG!
Was the first sound he listened. After that, a roaring multitude screaming. He doesn't understand what is happening. Why are these people so marveled? Is it me the reason? A hard line drive between shortstop and third came out beaming off the bat. The crazy mom couldn't believe it, the crowd couldn't believe it, the manager couldn't believe it, the teammates couldn't believe it, but Jon did believe it.
—Run JON! Fucking Run!—. Screamed the mother.
The guy from second base scored...
—Go! Fucking get the fucking second boy! Quickly! The amazed manager demanded.
And so did Jon, he got to second base but that's not all. Jon feels very confident and sees a chance to get to third. The manager cannot reason what he's about to see...
—STOPPP! You little...
But that didn't stop him, he went fastly to third until... Jon's helmet fell off his head...
Do you think this story is going to have a happy ending? Not with Jon... Little Jon forgot about the Baseball rules, and somehow he thought he had to wear his helmet on, in order for the run to be legit. so, What does he do? He goes back from third to get the helmet back and the rest is not that blurry to figure it out.
—Fuck my life!—
The manager and little Jon murmured simultaneously...

To be continued....