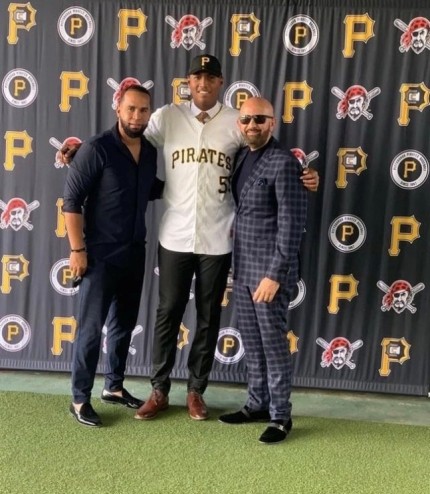 At the age of 16, he was 198 cm tall and weighed 110 kg. Indeed, interest from the United States and Japan is exploding in the appearance of a super-promising player.
On the 16th reporter Ben Bedler of Baseball America, a news outlet specializing in American baseball, said, Pittsburgh has signed an international contract with Tony Blanco Jr. worth 900,000 dollars. According to MLB.com, the official MLB website, Blanco Jr. is the largest outfielder among international prospects this year. Based on his excellent physical condition,it is evaluated that he has fast bat speed, better recognition of the strike zone than his age, and the power to hit 40 home runs in the major leagues.That's why he's ranked 11th on this year's international list of youngsters.
MLB.com expressed interest, saying,The son of former major league player Tony Blanco who played in Washington and Japan, Blanco Jr. grew up watching games from an early age.
Blanco Jr.'s trip to Pittsburgh also became a hot topic in Japan.It was none other than his father,Tony Blanco,Father Blanco played 56 games for Washington in 2005 in the major leagues,but played as an outsider for eight years in the Nippon Professional Baseball (NPB). Starting with the Chunichi Dragons in 2009,he played with the Yokohama Baystars and the Orix Buffaloes,batting .272 in 750 games, 181 homers,542 RBIs, and an OPS of 0.868.In 2013,while playing for Yokohama,he finished the league in RBI with 41 homers and 136 RBIs.
Several Japanese media, such as Full Count and Nikkan Sports, covered the news of joining, saying, Blanco Jr. has signed a contract with Pittsburgh.He is expected to hit 40 home runs with fast bat speed and power.He continued, He is 198 cm tall and weighs 110 kg,which is one size bigger than his father,who is 188 cm tall.Fans are paying attention to his bigger physique than his father.
Fans who saw Blanco Jr.'s joining photo were surprised by his large physique, which did not suit his age, such as He is 16?It's hard to believe that he is 16.