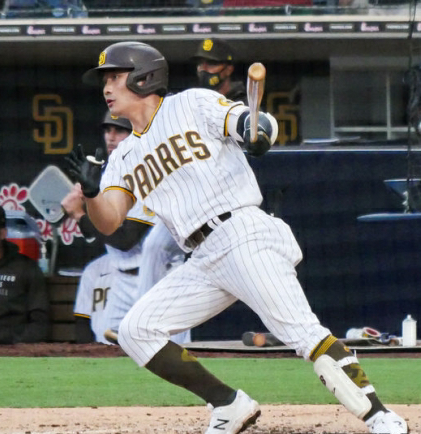 How to increase the chances of appearing in the San Diego Padres back-up infielder kim Ha-seong.The National League designated hitter system was introduced.
Kim Ha-seong, who won the Golden Glove Award for shortstop for three consecutive seasons in the KBO League, signed a 4+1 year and up to $39 million contract with San Diego through the posting system after the 2020 season.This is because the Padres were lined with prominent infielders such as superstars Fernando Tatis Jr,Manny Machado and Jake Cronenworth,second in the 2020 Rookie of the Year voting. Some predicted that Kim Ha-seong would push cronenworth to the outfield or play an infield super utility,but the result was neither.I spent a lot more time on the bench than on the ground.
In the end of his first year of debut,Kim Ha-seong left a disappointing record of 117 games with a batting average of 2 to 2, 8 homers, 34 RBIs, 27 points, and 6 stolen bases amid a tough start-up competition.And this season,the second year, is also classified as a backup for the San Diego infield, which is lined with superstars.
Recently, however, in the major leagues, a system that can increase Kim Ha-seong's chances to play is being discussed.This is the introduction of the designated hitter system in the National League, where the pitcher also stood at the plate. It is not yet possible to predict in which direction the labor-management agreement will be concluded,but it is reported that the two sides have reached an agreement on the National League designated hitter system to some extent.
According to the CBS Sports in the US recently said,Tatis Jr.,who is at risk of dislocating his shoulder will be moved to the outfield, and it is highly likely that the existing outfielder Wil Myers will take the designated hitter.Then the shortstop should be Kim Ha-seong.
Kim Ha-seong, who met at the departure hall of Terminal 2 at Incheon International Airport on the 31st,also expressed his support for the introduction of the designated hitter system.He said,I don't know what to do, but if it is introduced, it's a good opportunity.You have to prepare well.
Ahead of the second season,Kim Ha-seong said,I had some difficulties and joys while playing for one season,but because of the experience,I got used to life and baseball and became comfortable.