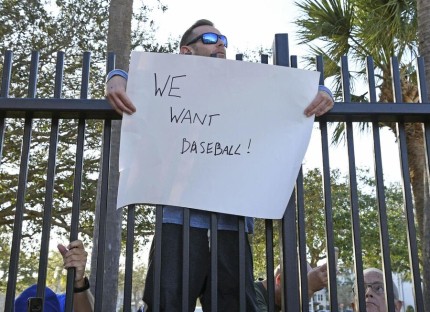 The lockout of the Major League Baseball (MLB), which stopped in December last year, has been adrift for more than three months.The opening date of the regular season, which has already been postponed once, has been postponed once more.
Major League Baseball Commissioner Rob Manfred said in an official statement on the 10th,Unfortunately, we did not reach an agreement during the second late-night negotiations that took place within a week.6 games have been canceled, which means that the start of the season has been postponed until April 15.
Before the announcement, the major league owners and the players union negotiated for 17 hours in New York from the 9th to the 10th, but could not resolve their differences.This is the second rupture following the Jupiter negotiations that broke down in Florida on the 2nd.The opening date, which had been postponed from April 1 to 8 due to the failure of the negotiations at the time,was postponed once more as the New York Negotiation was canceled.It is the first time in 27 years since 1995 that the opening has been delayed due to a labor dispute.
This lameness started when the club owner, who could not agree on a new labor-management agreement (CBA) with the players union, declared a lockout on December 2, last year.It's been 97 days since all major league schedules were suspended, but both sides are still at a standstill.
According to foreign media reports such as the secretariat suggested raising the limit of the luxury tax from $230 million this year to $244 million by 2026, the time when the labor-management agreement ends, but the players union has raised 200 million this year.It is known that it has adhered to the existing position of raising it from $38 million to $263 million in 2026.In the bonus pool for young players who cannot apply for salary adjustment, the players union changed the plan from $85 million to $75 million, and the secretariat changed the plan from $30 million to $40 million, but no agreement was reached.
Here, the positions of both sides in the international draft were sharply divided.The international draft is a system that allows large prospects from overseas such as Cuba and the Dominican Republic to be brought in without a down payment, and it is reported that the players union provoked strong opposition.New York Mets ace pitcher Max Scherzer,wrote on twitter that MLB is polluting the water.We're against the international draft.