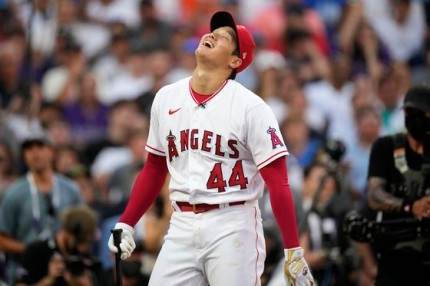 Shohei Ohtani of Los Angeles Angels, a Japanese player in MLB, was concerned that the prolonged MLB job closure could have a negative impact on players.
In an online interview with US and Japanese reporters on the 1st, Ohtani said,The lockout does not cause any physical problems.Still, he worried that if time goes by without knowing when the regular season will start,you may lack motivation when working out.Major League Baseball was unable to revise the collective bargaining agreement (CBA) with the players union,so the start of the 2022 regular season as well as the spring camp schedule were not confirmed.
Ohtani said,I have been training on the assumption that the spring camp (scheduled for the 17th) will start normally.If the start date of the spring camp is delayed a little,there is no problem.Major League Baseball planned the start of spring training on February 17 and the regular season on April 1. As the CBA revision is delayed, the spring camp is virtually impossible.The start of the regular season may also be delayed if MLB labor and management do not come up with an agreement even in February.Ohtani was also concerned.If this situation lasts longer,there could be problems.
Ohtani was a major league star in the United States in 2021.He started in 23 games as a pitcher and pitched 130 innings or more, posting a 9-2, a 3.18 ERA.He was also active as a hitter.He batted .57, 46 homers, 100 RBIs, 103 runs and 25 stolen bases.He became the first major leaguer to complete 100 innings,100 strikeouts, 100 hits, 100 RBIs, and 100 runs.
After the season,he unanimously swept 30 first-place votes in the Baseball Writers Association (BBWAA) poll, and was named the 2021 American League MVP.He swept various awards, including the Player of the Year Award and the MLB Commissioner's Special Award,which are selected by players themselves.Ohtani is looking forward to the start of the new season.There is still a lot of room for growth both physically and technically.I have to stay healthy to play as many games as possible.I haven't reached my peak yet.I still have a lot to learn.