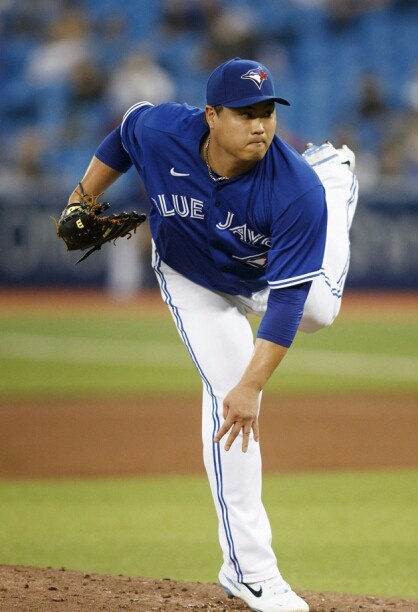 Toronto Blue Jays Ryu Hyun-jin is a pitcher who can be revived at any time, and the American media cheered.
According to report said on the 20th Recently, it is a blow to Toronto that Ryu Hyun-jin lost him no matter how bad he was.He is an excellent pitcher who can be revived at any time.
Ryu Hyun-jin was placed on the injured list on the 20th due to a neck injury.He was kicked out early on the 18th, conceding 5 runs in 2 innings against the Minnesota Twins.
Toronto general manager Ross Atkins said,I have a feeling of a stiff neck.I didn't feel it while pitching, but I woke up the next morning nervous. .
Ryu Hyun-jin has suffered an unusual slump recently.In the last eight appearances,Ryu Hyun-Jin suffered 33 runs in 36⅔ innings and an ERA of 8.10. The batters who faced Ryu hyun-jin during this period recorded a batting average of 0.295, an on-base percentage of 0.340, and a slugging percentage of 0.544.
Ryu Hyun-jin previously had a 3.22 ERA in 123 innings in 21 games.According to report said,This eighth appearance is the worst in Ryu Hyun-jin's career.
Toronto is in fierce wildcard competition. The Boston Red Sox and the New York Yankees are in a three-way battle. Toronto is second in the wildcard rankings, 1.5 games behind Boston.The third-placed Yankees chase Toronto by half a game.There is no time to relax.
Fortunately, even if Ryu hyun-Jin is missing, it is not a fatal blow right away. Robbie Ray,Jose Berrios and Alek Manoah are maintaining the top three starters in the league. Steven Matz is also an obvious replacement starter.
According to report said they still need Ryu Hyun-jin.Losing Ryu Hyun-Jin is a blow to Toronto, no matter how hard he's been struggling lately. He's a great pitcher who can be revived at any time.