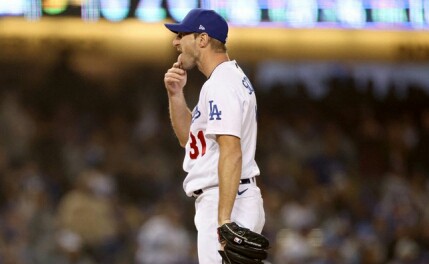 Los Angeles Dodgers winning contractor Max Scherzer threw all his heart to wash away the wild card slump, but cried with one home run.
Scherzer started the third game against the San Francisco Giants in the 2021 Major League Postseason National League Division Series held at Los Angeles Dodger Stadium on the 12th and became a losing pitcher with one run in seven innings.
Scherzer threw 110 pitches up to the 7th inning and gave only one run.However, the Dodgers were silent and lost 0-1. Scherzer was quick-hooked in the wildcard game, and his ace pride was hurt.I personally made up for this in Game 3 of the Division Series,but the team lost and couldn't laugh.Scherzer made a loss in the 5th inning against the lead batsman Evan Longoria in the 0-0 inning.A four-seam fastball, thrown from a favorable count of two strikes, went into the midfield. Longoria hit a home run without missing a beat.It was the only score of the day for both teams combined.
According to MLB.com, Scherzer said after the game,I found rhythm in the second inning.I hit five pitches effectively and felt good.But in the postseason, you can always lose because of one ball. Today, I lose because of one ball.he said his feelings.
Scherzer was substituted early on the 7th with one run in 4⅓ innings against the St. Louis Cardinals in the wild card game.In the 5th inning against 1-1, in the crisis of 1st and 2nd base,he came down from the mound without being treated with an ace.The Dodgers won 3-1.
After 5 days,he received the reversed report card.This time Scherzer restored his pride, but the team lost.
San Francisco faced Scherzer in a duel relay. Alex Wood scored 4⅔ innings, Tyler Rogers 1⅔ innings, Jake McGee ⅔ innings, and Camillo Taunt with two scoreless innings.The Dodgers dropped their heads after hitting five hits, two more than San Francisco.
Dodgers manager Dave Roberts said, The result was a shutout, but there were a lot of good shots.The Dodgers went 1-2 in the series.If they lose in Game 4, the season is over.