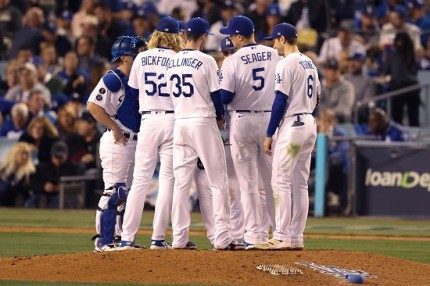 The Dodgers lost 2-9 to the Atlanta Braves in Game 4 of the National League Championship Series (NLCS, 4 out of 7) held at Dodger Stadium in Los Angeles, California on the 21st.As a result, the Dodgers have a record of 1 win and 3 losses in the series, and are in danger of being eliminated if they lose one more time.

The Dodgers, who brought the atmosphere back with a win in Game 3, raised 20 wins pitcher Julio Urias to start the series. However, urias appeared for relief in the second game and played one inning, and started in two games and was not in a normal position.
Urias was led 0-2 in the second inning by hitting back-to-back home runs from leading hitters Rosario and Adam Duvall. In the 3rd inning,urias,who was hit by a home run by the lead batsman Freeman, was hit by Joc Pederson in a timely hit in the crisis of 2-4 1st and 3rd, and in the 5th inning, he gave a sacrifice fly to center field to Duvall in the crisis of 1, 1 and 3 in the 5th inning and was dragged down to 0-5. In the end,urias bowed his head with 8 hits, 2 walks and 5 runs in 5 innings.
The Dodgers attempted a chase in the bottom of the fifth inning.The Dodgers, who had a chance at first and third base with Turner and Bellinger's consecutive hits, caught up to 2-5 with Pollock's two RBI just-time hit after two runs.However, there were no additional goals, and rather, they conceded four more points, including a three-run home run, in the ninth inning and suffered a 2-9 defeat.
On the other hand, Atlanta who won, thanks to Rosario's 4 hits, 2 home runs, and 4 RBIs, advances to the World Series with just one win. The Dodgers will have to win the remaining three games.