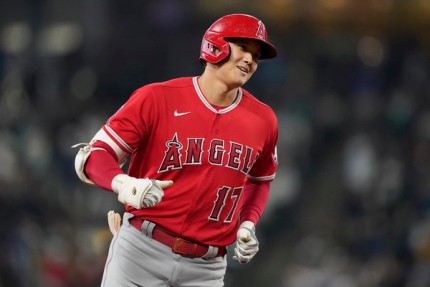 Shohei Ohtani of Los Angeles Angels rocked the MLB in 2021.He batted 57 (138 hits in 537 at-bats), 46 homers and 100 RBIs in 155 games as a batter, and started 23 games as a pitcher, posting a 9-2 and a 3.18 ERA.He was unanimously named American League (AL) Most Valuable Player (MVP) and swept numerous awards including Silver Slugger and Special Commissioner Citation.
On the 2nd, Japanese sports media highlighted Ohtani's 2021 season and praised Ohtani, saying,The way he performs on the best stage as a two-timer has given Japanese fans dreams and hopes. According to the media, Ohtani did not hide his will to go one step further despite his performances in the 2021 season that shocked the world.
At the end of the 2018 season, Ohtani underwent a ligament surgery on his right elbow (Tommy John surgery) and went through a long period of rehabilitation.He took an entire 2019 break as a pitcher, and had only two appearances in 2020. During this period,he was able to spend a truly monster season last year thanks to my efforts to rehabilitate without overdoing it. Ohtani mentioned the possibility of upgrading, saying,I am not in 100% condition yet, including the surgical site,and There is room for further improvement in terms of physical.
Although he has won various awards last year, Ohtani is still thirsty.He also showed confidence in himself, saying,I think he can set a higher level record this year.He is aiming to achieve double-digit wins and double-digit home runs in a single season for the first time since Babe Ruth in 1918, including winning the title in the home run and RBI division that he could not conquer in 2021.The media expected, If this goal is achieved, the Cy Young Award, which is given to the best pitcher, and the Hank Aaron Award, which is given to the best hitter, will be realized at the same time.
Japan baseball team manager Hideki Kuriyama, who coached Ohtani during the Nippon Ham Fighters in Japan Professional Baseball, also argued that he could achieve better results. Director Kuriyama said in an interview with the media,I don't think Ohtani's record last year was great.I believe he is an even better player.