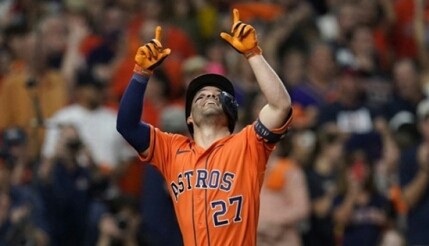 The hero of Game 2 of the World Series was Jose Altuve of Houston Astros. Altuve's will to win tied the series.
The Houston Astros beat the 2021 Major League Baseball Atlanta Braves in Game 2 of the World Series 7-2 at Minute Maid Park on the 28th.With this victory, Houston blasphemed for a 2-6 loss in Game 1 and recorded a series record of 1 win and 1 loss. Houston tablesetter Jose Altuve (2 hits, 1 home run, 1 RBI in 5 at-bats) and Michael Brantley (2 at-bats) One hit and one RBI) flew wildly with a multi-hit performance.In particular, Altuve blew a wedge solo in the 7th inning, which the team led 6-2, and broke the opponent's will to pursue.
This home run was Altuve's fourth home run of the postseason this year and his 22nd arch of his career.Altuve,who hit 22 home runs, tied for second in the postseason for the most home runs ever, putting him on par with Bernie Williams. That's a difference of 7 points from the postseason homerun leader Manny Ramirez.
After the game, Altuve said in an interview,If the team can win, the personal postseason record is not important. You can go without a hit in 20 at-bats and then hit the decisive one. This is the playoff.I didn't use it and I was going to hit a good hit today.I'm happy that the team won.
Next, Altuve praised Jose siri,who showed fantastic base play. Siri scored a one-run infield hit with a quick foot in the first and third bases in the 2nd inning, and took advantage of Martin Maldonado's hit and opponent's error, rushing home to score,and succeeded in scoring.Altuve praised,The play that Siri showed in the second inning was the key to winning today's match.
Houston won at home and is now on their way to Atlanta.What is encouraging for Houston is that the atmosphere has been restored, and Altuve and other lines have come alive. Houston predicted right-handed Luis Garcia (11-8, 3.48 ERA) as a starting pitcher in Game 3.In Atlanta, who will fight back, right-handed Ian Anderson (9-5, 3.58 ERA) will be on the starting mound.