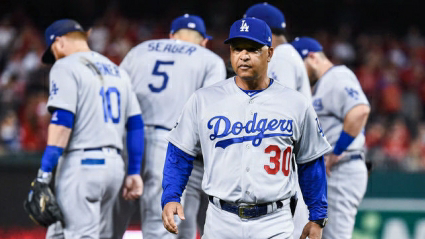 Local public opinion seems to favor Roberts' contract renewal.
The North American sports media The Athletic predicted the challenges that 30 teams would have to solve in the new year of 2022.The Los Angeles Dodgers picked renewing the contract with manager Roberts as their top priority for the new year.The Los Angeles Dodgers lost Max Scherzer to New York Mets and Corey Seager to Texas Rangers).They are having a quiet offseason despite the impact of the lockout.He has to fill in the position he left as a free agent and finalize negotiations with Clayton Kershaw.Team reorganization is the first priority.However, negotiating a contract with manager Roberts is also an offseason task for the Dodgers that cannot be overlooked.
Roberts took over as manager in November 2015, signing a 3+1 year contract with the Dodgers.And in December 2018,he signed a four-year extension with options.His contract expires in 2022.However, there has been no news about the renewal of the contract yet.In October of last year, manager Roberts said in an interview with the Los Angeles Times,We did not discuss an extension with the club.He has one year left but looks forward to an extension.The Dodgers are where I want to stay.I hope we can have a good conversation at any point this winter.
No other news has been heard since then.The Athletic said,No other manager has withstood more criticism while winning more than Roberts.The mistakes Roberts made in October deserved criticism and paid a price, He emphasized that the performance of successfully leading the regular season and advancing to the postseason every year should not be undervalued.
In six seasons,the Dodgers have won five districts and made three World Series appearances. And in 2020, he led the team to win the World Series for the first time since 1988.Roberts said,His regular season winning rate of 60. added achievements. Joe McCarthy served as manager for 24 years, from 1926 to 1950.He has a career record of 2125-1333 and a .615 win rate. His managerial career blossomed with the Yankees.He is a former Yankees manager for 16 years and has won six World Series titles.
Finally, the media urged Roberts to secure a stable position.In the 2022 season,Roberts should not be a lame duck manager,he emphasized, giving strength to Roberts contract renewal.