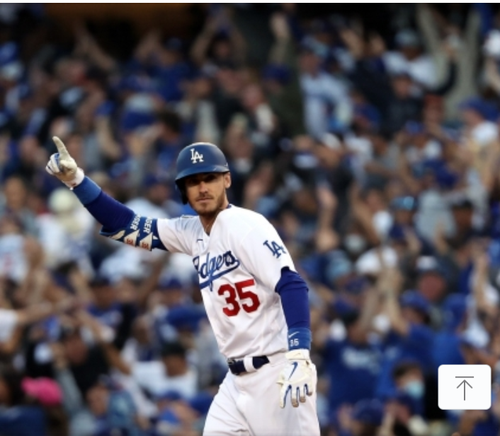 Cody Bellinger of Los Angeles Dodgers won the Rookie of the Year award in 2017,during his MLB debut season, and swept the league MVP with his monster performance in 2019.He was only 24 years old.Everyone had no doubts that this player would remain in his prime for four or five years and serve as a central hitter for the Dodgers.
However, his shoulder dislocation and other injuries started to become more frequent, and he had his worst season last year.Bellinger's worst record was a batting average of 0.165 in 95 games last year.He averaged 0.625 in 2019, but his slugging percentage dropped from 0.455 in 2020 to 0.302 last year.The Dodgers had to struggle to keep Bellinger alive, and he came up with the central hitter title,no doubt a chain reaction that began with his shoulder injury. But no one knew that his grades would drop to this extent.The biggest cause of Bellinger's fall,analyzed according to Sports Illustrated,a US sports media outlet, was too weak to a fastball.And it is analyzed that Bellinger's form has changed significantly since the shoulder injury, which is directly related to the weakness of the fastball, especially the high course.
In fact, Bellinger's batting average against fastballs in 2019 was 0.327, but last year he was 0.150.He was the worst hitter.His batting average on the lowest side of the strike zone was .200 and .226 in the middle, with a batting average of 0.088 on the high side of the strike zone over three feet.The pitchers fully exploited Bellinger's weakness.The pitchers continued to exploit the obvious holes in his swing.
However,Sports Illustrated drew attention by expecting that Bellinger will gradually return to its former appearance and eventually rise to a level similar to the previous one.SI said,Bellinger in 2019 is so great that it may be asking for too much to get back to that level, but it's very likely to come back near that level.
The basis for Sports Illustrated's claim is the hitting form at the end of 2021.Bellinger did his part in the 2021 postseason, correcting the angle of his left wrist.He continues to work to compensate for his weaknesses, and his shoulder condition is likely to continue to improve as well.
Until July, his left wrist was slightly bent, which created a steep angle to his shoulder, which resulted in his swing being delayed.Conversely, in the postseason, the angle of the left wrist was flattered, reducing the distance the bat followed up the course, leading to the decisive home run against Luke Jackson in Game 3 of the Championship Series.
Still,SI emphasized,The biggest threat is health.You need to take continuous care and attention on your shoulder.If Bellinger, who has been sluggish for the past two years, does not rebound until this year, there is a possibility that he will be reduced to a really mediocre player.For Bellinger, this is likely to be the most important year in his career.