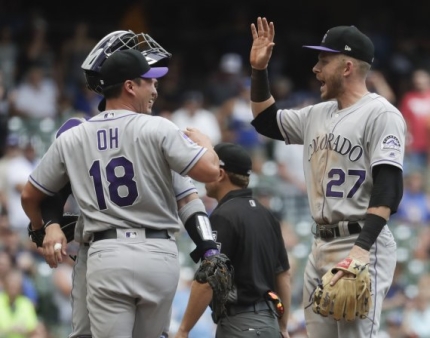 Oh Seung-hwan recorded his first save after moving. Oh took the mound at the bottom of the 11th inning, leading the Milwaukee Brewers 5-4 in an away game on Thursday , and pitched his save without allowing a run in one inning. It was his third save of this season and Han the 399 times of the year.
This save was very meaningful. There are two closer pitchers in Colorado. Wade Davis, who recorded 31 saves as of Friday, four saves, and Adam Ottavino with 24 holds. However, the starting pitcher Davis failed to pitch in the bottom of the ninth inning with his save.
This is due to the recent severe slump. Davis has recorded blon saves in three and four consecutive games. In two games, he pitched only one inning and gave five runs. Last week, his ERA jumped from 4.20 to 5.09. If an earned run average of five points, he will be disqualified as a closer.
Therefore, he could not afford to take the mound in the bottom of the ninth inning when he was saving. The following choices are Ottabino. It was a comfortable 4-1 lead and the burden was light. An opportunity to make the starting spot for the remaining games their own. However, Otabino allowed a tie with three runs including a home run by Mustakas.
Colorado is third in the National League West. Three games behind the first place. Every game is on thin ice. However, he failed to keep the lead of three runs and the finishing pitcher collapsed. The finishing pitcher had played two previous games. Coach Bud Black's eyes were on the next pitcher.
He brought the pitcher from Toronto through trade late last month. He has earned a reputation as a ' final captain ' by playing 277 saves in Korea, 80 saves in Japan, and 41 saves in the Major League. The maximum speed limit exceeds 150 km, but the strongest rotation count (46 per second) is based on the average fastball pitcher who enjoys a frontal fight.
Black took Oh on the mound as if he had waited for his third batter Arenado to hit a solo homer in the top of the 11th inning. Oh was on the verge of hitting first and second bases, but ended a long race by treating Eric Kratz as a double to first base. Since his transfer to Colorado, he has lost five games in a row. Including Toronto, he has continued to play 13 games without losing any points. His ERA is 2.42.
Oh said, " Can I become a new firefighter in Colorado? Will Colorado, which has added Oh to the bullpen, survive the fierce battle with the Arizona Diamondbacks and the LA Dodgers to advance to the postseason? An exciting autumn baseball story is now unfolding. Oh once became a closing pitcher during the season in 2016 (St. Louis Cardinals). Trevor Rosenthal will finish the St. Louis Cardinals ' main team in 2016. He was a special fire fighter who recorded 45 saves in 2014 and 48 saves in 2015. The average speed of fast balls is 157 kilometers per hour.
Manager Mike Seinteni decided to appoint Oh in late June instead of Rosenthal. On June 29, he gave Oh a chance since the Kansas City Royals '. This leads, four points from a losing situation the next day on ninth inning, with the Red Sox looked to a test. And since the game against Milwaukee on July 3, Oh was entrusted with an emergency save situation. Since then, Oh has been a guardian of the St. Louis Cardinals. What will Colorado Bird make?