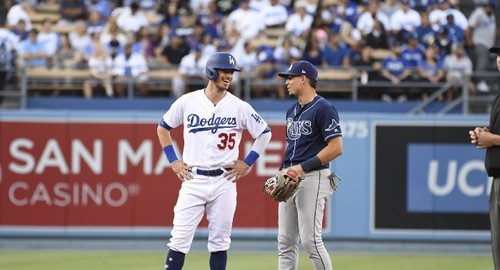 By Zane Miller
The Tampa Bay Rays and Los Angeles Dodgers will face each other in the 116th World Series as both teams look to be MLB champions for the 2020 season. The two teams have never played against each other previously in the World Series.
In their past World Series appearances, the Dodgers are 6 for 20, losing in their first seven appearances before claiming their first championship in 1955. After losing the World Series the next season, the team relocated from Brooklyn to Los Angeles and won in their next three appearances in 1959, 1963 and 1965, before suffering another losing streak, coming up short in 1966, 1974, 1977 and 1978. The Dodgers took advantage of their next two opportunities, winning in 1981 as well as claiming their most recent championship in 1988, but have struggled recently with back-to-back losses in 2017 and 2018.
The story for the Rays is much shorter, as they are 0 for 1 in their previous World Series appearance, falling in their lone opportunity in 2008.
Out of the 225 potential World Series matchups that would be possible under the current playoff format, 67 of them have occurred so far.
The most common matchup out of the ones that could still be possible to re-occur is the New York Yankees v. Los Angeles Dodgers, as the franchises have faced each other 11 times, coming in 1941, 1947, 1949, 1952, 1953, 1955, 1956, 1963, 1977, 1978 and 1981.
Follow me on Twitter: https://twitter.com/Zmiller_82