I wouldn't sleep a minute away
Oh, there's black jack and poker and the roulette wheel
A fortune won and lost on ev'ry deal
All you need's a strong heart and a nerve of steel
Viva Las Vegas, Viva Las Vegas...
As Elvis Prestley sang, Las Vegas is renowned for being the gambling capital of the globe with all its craziness but also the fighting capital whether it's boxing or MMA.
Once again Paradise (Las Vegas) will host one of the biggest card of the year with two title defenses. UFC 239 will take place tomorrow - saturday 6th - at T-Mobile Arena. The official weigh-in took place this morning where all 24 fighters made weight in their respective weight class.
The ceremonial weight-in will be livestreamed at 7 p.m. ET. Find the video below:
---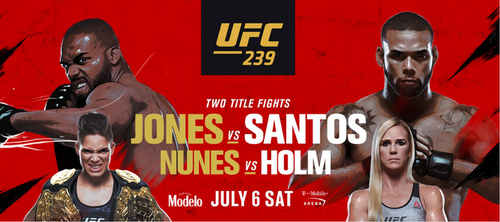 ~ MAIN CARD ~
Light heavyweight (205 lb or 93 kg)
Jon Jones (champion) vs. Thiago Santos
Women's bantamweight (135 lb or 61 kg)
Amanda Nunes (champion) vs. Holly Holm
Welterweight (170 lb or 77 kg)
Jorge Masvidal (title contender) vs. Ben Askren
Light heavyweight (205 lb or 93 kg)
Luke Rockhold vs. Jan Błachowicz
Welterweight (170 lb or 77 kg)
Diego Sánchez vs. Michael Chiesa
~ PRELIMINARY CARD ~
Featherweight (145 lb or 66 kg)
Gilbert Meléndez vs. Arnold Allen
Bantamweight (135 lb or 61 kg)
Marlon Vera vs. Nohelin Hernández
Women's Strawweight (115 lb or 52 kg)
Cláudia Gadelha vs. Randa Markos
Bantamweight (135 lb or 61 kg)
Alejandro Pérez vs. Yadong Song
~ UNDER CARD ~
Middleweight (185 lb or 84 kg)
Edman Shahbazyan vs. Jack Marshman
Welterweight (170 lb or 77 kg)
Ismail Naurdiev vs. Chance Rencountre
Women's bantamweight (135 lb or 61 kg)
Julia Avila vs. Pannie Kianzad