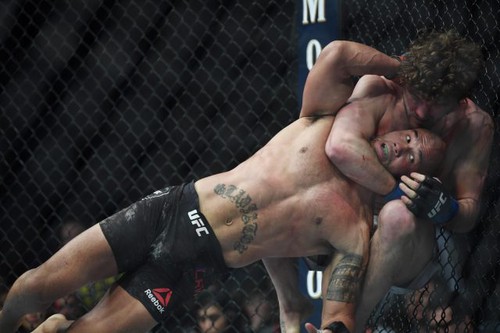 UFC 235 maybe over but the debate on the controversial stoppage by Herb Dean when Rob Lawler's arm went limp because of Ben Askren's bulldog choke. It becomes so interesting especially with the Lawler's performance at the start of the fight, how he slammed Ben Askren to the mat and pounds him with vicious strikes. Those moments certainly raises the crowd's adrenaline to hypermax level.
But what really happened? Is it really early stoppage? Or a legitimate choke out that actually passed out Lawler's into unconscious state for few seconds. The story is that Lawler's reaction was just to let go of his arms to look for a momentum and try to get out of that head lock.
However, the version that I believe what had happened is that as per Herb Dean and as confirmed by Ben Askren is that as soon as he thought that Rob is already unconscious he told Ben Askren to "STOP" and at that point Askren started to loosen his grip (gives time for Lawler to quickly recover). The reason why when Askren stood up after the stoppage Robbie Lawler immediately jumped out to his feet and appeared alright. That then sends out questions if it is really an early stoppage or not.

Does this deserve a rematch? Well, in his recent interview, Ben Askren don't want it no more. Maybe he's looking for bigger money fights or for something that will bring closer him to the title shot or maybe of the viciousness Robbie Lawler has shown, no fighter who doesn't want to get hurt would like to face him.
I think this is a a fair and square review of Joe Rogan and Brendan Schaubb on Rogan's show. Watch and enjoy this video clip: