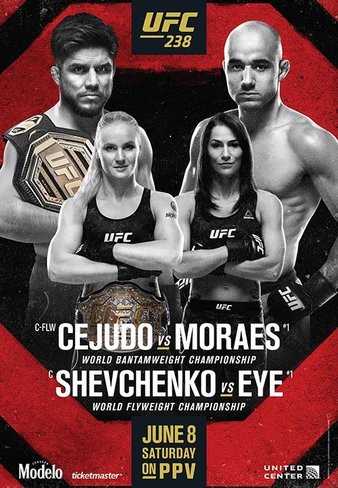 UFC 238: Cejudo vs. Moraes
Henry Cejudo vs. Marlon Moraes -Moraes |KO/TKO| [Rd 3]
This is a very intriguing match. Both of them are well matched. Cejudo of course has his wrestling credentials, but Moraes is a very good grappler too. I am giving the striking, and power edge to Moraes though Cejudo has improved his striking a lot since we first saw him inside the octagon. Cejudo will definitely go for his wrestling, Moraes will keep popping back up to his feet. Moraes will keep punishing Cehjdo's legs and body with his powerful kicks and eventually will find a TKO finish in the 3rd round or early into the championship rounds.
Valentina Shevchenko vs. Jessica Eye -Shevchenko |Decision|
Donald Cerrone vs. Tony Ferguson - Cerrone |KO/TKO| [Rd 3]
A dream fight of any MMA fan! Wow ... how did we not see this fight before. Tony is like the uncrowned champion in the division with his crazy winning streak, and Cerrone with his new found hot streak. It's going to be a crazy fight until it lasts. That's for sure. Tony is very, VERY unpredictable. He doesn't hesitate to do his unorthodox techniques, but he gets hit a lot. His ability to take a shot and keep his cardio levels in the deep waters make him dangerous. I was surprised that Al Iaquinta didn't attack Cerrone's body which he is known to be susceptible to. Al really did struggle with Cerrone's frame and reach in my opinion. Tony will not discriminate his attack though, because a pure kickboxing match will always favor Cerrone. I think they are going to go back and forth in the first 2 rounds and Cerrone will catch Tony with a head-kick, and he will get the TKO finish in the 3rd round. It's a very close fight though. Crrone has this thing with freezing when it comes to big matches, and Tony is scrappy as it comes.
Jimmie Rivera vs. Petr Yan -Yan |Decision|
Rivera did not look that good against Sterling. He was completely shut down with Aljamain's reach and his style. In my opinion, Yan is a very bad match-up for Rivera. Rivera likes his boxing and that's where Yan excels at. I think Yan will win a very dominant stinking battle, unless Rivera comes to wrestle his way to a victory, but I don't think that will be his gameplan.
Blagoy Ivanov vs. Tai Tuivasa -Tuivasa |KO/TKO| [Rd 1]
Nina Ansaroff vs. Tatiana Suarez -Suarez |Submission| [Rd 2]
Suarez is a huge favorite and she will live up to it. She will be aggressive with constant pressure, will go for takedown after takedown and smother Ansaroff. Ansaroff will eventually get tired and will give up a submission to Suarez.
Pedro Munhoz vs. Aljamain Sterling -Sterling |Decision|
Alexa Grasso vs. Karolina Kowalkiewicz -Grasso |Decision|
Calvin Kattar vs. Ricardo Lamas -Kattar |Decision|
Angela Hill vs. Yan Xiaonan -Xiaonan |Decision|
Bevon Lewis vs. Darren Stewart -Lewis |KO/TKO| [Rd 2]
Katlyn Chookagian vs. Joanne Calderwood -Chookagian |Decision|
Eddie Wineland vs. Grigory Pipov -Wineland |KO/TKO| [Rd 2]
---
#Most Confident Pick/s:
Tatiana Suarez
Valentina Shevchenko