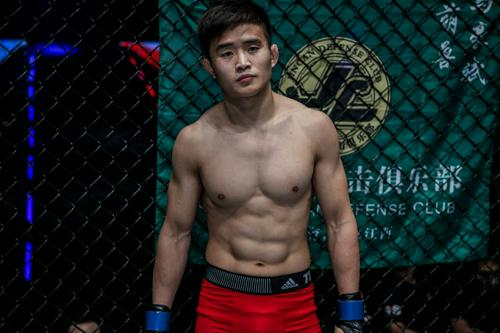 MACAU, China - The Southern Eagle "Ma Hao Bin of China" will designate a six-match streak record for the Lakers of Baguio City Team Danny Kingad in the undercard of ONE: PINNACLE OF POWER on January 23.

The 24-year-old Chinese national freestyle wrestling champion handed the clean 6-0 record to ONE after debuting in 2016.
ONE: DYNASTY OF CHAMPIONS (CHANGSHA) Flyweight Tournament Championship where he defeated his fellow Chinese Wu Ting Shen and Bu Huo You Ga.
In total, Ma's 11-2 winner, featuring four submission and two knockouts.
In his final fight in January, Ma beat the veteran Sotir Kichukov of Bulgaria.
Against Kingad, Ma intends to strengthen status as one of the strongest fighters in Asia's largest MMA promotion.
"Nothing is easy. A person has to go through hardship to become successful. I know it will be hard, but I am willing to dig deep and get that victory. In order to be a winner, you have to endure. I am here to endure all the hardships because I want to be the best in the division, " Ma said.
His real rival, Kingad, has a 9-1 professional record. The 22-year-old from Baguio City is a native striker and strength in grappling.
"He is so talented as a fighter. I can say that he is exceptional for a flyweight like me. That's why I am exerting my best effort in training. He is an opponent worthy of a good battle. This match excites me," Ma said.
After losing from Moraes in the ONE Flyweight World Championship in November, Kingad quickly recovered from winning against Kichukov in March.
"We both faced Sotir Kichukov in ONE Championship, and we did walk away with respective victories. Honestly, I believe that I've done better than him against Sotir. In our ring clash this Saturday, the commitment to hone and perfect my craft will once again be in full display against Danny," Ma said.