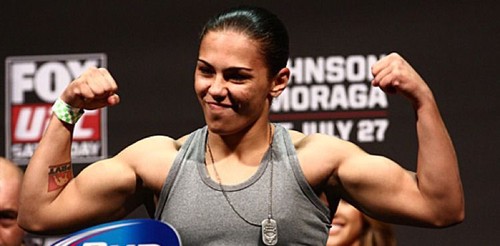 Jessica Andrade displayed why she was such a hefty favorite heading into her co-main event bout against former strawweight title challenger Karolina Kowalkiewicz when she scored the walk-off KO in the very first round, a rarity in all of women's mixed martial arts and especially the strawweight division. With the dominant victory, Andrade took home Performance of the Night honors and now looks to also take home the UFC strawweight championship. When asked how she believes the fight with Namajunas would go, Andrade gave her analysis.
"Rose is very versatile, but so am I," Andrade said through a translator at the UFC 228 Post-Fight Press Conference. "And I think my strength might be a big advantage when push comes to shove. Technique-wise, she's very good. She does everything quite proper. But sometimes, you just gotta rough it up. And I know that nobody can rough it up better than me. There's no girl in this division that is as strong as I am, and I know for sure that's gonna make a difference."
And prior to the fight, another difference-maker is, of course, preparation, which Jessica Andrade will be more equipped to do with the extra 50 G's she earned with the Performance of the Night bonus.
"I'm gonna do whatever I have to do," Andrade said. "This time around, I'll have three months to prepare if we get the fight in December. I'm gonna have a full, proper camp. And it's gonna be a new Jessica: more evolved, better, just like I was in this fight compared to the last one."
Jessica Andrade already has an exact date and location in mind for when she would like this title fight to take place:
"We do have two Brazilian belt-holders fighting each other on December 29th (UFC 232)," said Andrade. It happens that both are women, so it would be really good if I could get my title fight there…have the possibility of ending the year with three Brazilian champions in the three women's divisions."