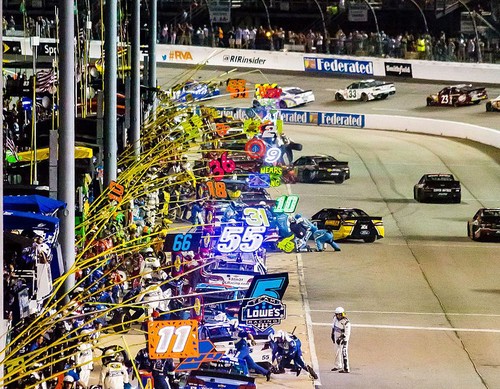 The Monster Energy NASCAR Cup Series returns to Virginia this Saturday night with the Federated Auto Parts 400 at Richmond Raceway. A total of 40 cars are scheduled to enter the event and the race will begin at 7:30 EST on the NBC Sports Network Saturday night. The playoffs are here and the winner is guaranteed to move into the second round. Who will claim the checkered flag at "America's Premier Short Track"?
The Track
Richmond Raceway is 3/4 mile asphalt track located in Richmond, Virginia. The track features a relatively flat D-shaped oval layout. The 3/4 mile length is unique on the NASCAR circuit, but the flat layout runs similar to the one mile tracks in New Hampshire and Phoenix. Racing teams tend to use the same set-ups at all three tracks and sometimes will even use the same car.
Richmond Raceway is nicknamed "America's Premier Short Track" and is one of only a handful of NASCAR tracks that runs all of its races at night. The Raceway hosts two NASCAR races every year and 2018 is the first year the second race is part of the playoffs.
The Chase For The Cup
The Federated Auto Parts 400 is the second race of the Monster Energy NASCAR Cup Series playoffs. The first race in Las Vegas last week was a tough one for many championship contenders as 9 out of the 16 playoff drivers were involved in accidents. After next week's race in Charlotte the 4 drivers with the lowest point totals will be eliminated.

Brad Keselowski is guaranteed to advance to the second round by virtue of winning the first race in Las Vegas. Drivers near the bottom of the standings might need to win one of the next two races to avoid elimination.
Here is the up-to-date playoff points standings:
16 #11 Denny Hamlin 2008
15 #20 Erik Jones 2009
14 #9 Chase Elliott 2019
13 #48 Jimmie Johnson 2022
12 #88 Alex Bowman 2028
11 #14 Clint Bowyer 2029
10 #3 Austin Dillon 2031
9 #10 Aric Almirola 2034
8 #42 Kyle Larson 2041
7 #12 Ryan Blaney 2042
6 #41 Kurt Busch 2046
5 #22 Joey Logano 2056
4 #4 Kevin Harvick 2060
3 #2 Brad Keselowski 2075* Las Vegas winner. Automatically advances to round two.
2 #18 Kyle Busch 2085
1 #78 Martin Truex Jr. 2088
The Favorite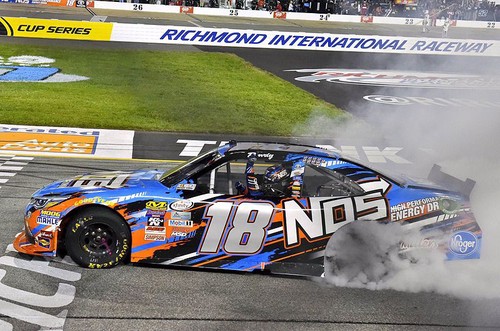 Because of the similarities between the tracks at Richmond, New Hampshire and Phoenix, racing teams tend to use the same set-ups at all three tracks and sometimes will even use the same car. Since the Cup Series has already run one race at each track so far this year, we have a lot of information as to who is going to do well at Richmond this week and all signs are pointing to Kyle Busch.
The first sign is obvious: Busch won the spring race here back in April. It was his third consecutive victory and it came as no surprise because Busch has historically dominated at Richmond in his career. He leads all active drivers with five career wins here and has an impressive sixteen top-5 finishes in twenty six career starts.
Busch also fared well at Phoenix and New Hampshire, with a runner-up finish in each race. He led the most laps at the Phoenix race. The No. 18 team has the set-ups nailed for these short flat tracks. Expect Kyle Busch to be battling for the checkered flag once again on Saturday night.
Other Drivers to Watch

Kyle Busch is the favorite this week, but Kevin Harvick is right on his back bumper. Harvick finished in fifth place at Richmond in the spring, that gives him six top-5 finishes in his last eight starts. While Busch was the runner-up at both Phoenix and New Hampshire, Harvick was the winner of both races. Harvick will have a chip on his shoulder after wrecking out early at Las Vegas and that extra motivation should have the rest of the field worried. The only thing that could hold the No.4 back this week is the pit stops. Harvick's crew has been flawed most of the season and slow pit stops can be devastating on a short track where position is crucial.
Pit stops have been a plague for Harvick, but they have been a boon for NASCAR's hottest driver Brad Keselowski. Keselowski has used fast pit stops and aggressive re-starts to win the past three races. However that winning streak is in jeopardy at Richmond. Keselowski performed poorly at Phoenix and New Hampshire this year while attaining an eighth place finish here in the spring. Keselowski has found speed recently, but his set-ups on the short flat tracks have not been up to par. He has momentum on his side, but unless his team can make a significant upgrade this week he won't be making a victory lap.
Denny Hamlin is currently last in the playoff points standings and desperately needs a win to keep his championship hopes alive. Richmond Raceway could be the cure for Hamlin's problem. Hamlin won this race two years ago and has three Richmond victories in his career. The Virginia native has finished no worse than sixth place here in his last six starts and his career average finish of 9.2 is only topped by Kyle Busch. Hamlin took third place here back in the spring and will be motivated to improve with his title hopes on the line.
Martin Truex Jr. has been snake bit at Richmond, dominating large sections of the race before untimely incidents take away his shot at winning. In the spring race, Truex led a race high 121 laps and was battling Kyle Busch for the lead when a jack locked during his final pit stop. The pit stop mishap caused him to lose nine positions and he ended the night with a disappointing 14th place finish.
"We could have four wins in the last five or six Richmond races and we have zero," said Truex. "We led a ton of laps in the spring race this year and were in position to win and finished 14th. Last fall, led the most laps and again in position to win. But a questionable caution with three to go ruined what was turning out to be a great race for us."
Truex posted top-five finishes at both Phoenix and New Hampshire this season. In his last five Richmond races, Truex has led more than 500 laps. The set-up is there, maybe he just needs a little luck to finally win at Richmond.
Chase Elliott has been oh-so-close to winning on all the short flat tracks this year. He finished runner-up here in the spring race, third at Phoenix and fifth at New Hampshire. The young driver finally won his first Cup Series race at Watkins Glen earlier this year and has the set-up to win race number two this week. He'll have the motivation as well since a wreck at Las Vegas currently has him below the elimination line in the playoff points standings.
Joey Logano has been flying under the radar recently, but his recent track history at Richmond is superb. He won this race in the spring of 2017 and followed it up with a runner-up finish in the summer. This spring he won both Stage One and Stage Two before losing some momentum as the track cooled into the night to finish in fourth place. Logano has finished in the top-ten in each of his last nine starts at Richmond.