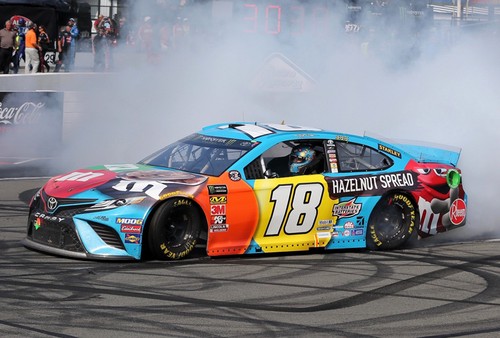 By Zane Miller
Link to original article: https://scorum.com/en-us/nascar/@zmiller82/2019-nascar-cup-series-season-predictions
Prior to the start of this season, I posted an article about my predictions for every race for the 2019 Monster Energy NASCAR Cup Series. I thought it would be fun to go back and take a look to see how many I got right and how many I got wrong.
I only got three of the race winner predictions right out of the 36-race season, for a success rate of about 8.33 percent. However, two of the three races that I correctly predicted were right at the beginning and right at the end of the season, with just one winner that was correctly predicted in the middle.
The season-opener Daytona 500 saw Denny Hamlin pick up his second win in the Great American Race, as he took home the victory in 2016 as well as in 2019. It wouldn't be too long before the next prediction, as in the eighth race of the season, the Food City 500 at Bristol, Kyle Busch scored his eighth victory at the track. However, the next 27 races would not go so well for my predictions, as there were no correct predictions until the final race of the season.
The Ford EcoBoost 400 at Homestead, the championship race, saw Kyle Busch outlast fellow final four drivers Martin Truex Jr., Kevin Harvick and Denny Hamlin, as he grabbed the win and his second Cup Series championship, which also allowed the championship prediction to come true as well.
As an added bonus, the prediction of the Coke Zero Sugar 400 at Daytona being postponed from Saturday to Sunday due to rain came true as well.
The biggest misfire out of all the predictions was that Daniel Suarez would win three races and make his way into the final four, which is definitely not what happened in reality as he not only didn't win any races, but missed the playoffs and was announced that he would not be returning to the 41 team after just one season. As of this writing, Suarez is still searching for a ride for the 2020 NASCAR Cup Series season.
However, I still had fun doing all of these predictions, and I look forward to doing something similar for next season.
If you enjoyed this article, please consider becoming a supporter on Patreon! For just $1/month, you can help support articles like these and get great benefits as well: https://patreon.com/Zmiller82
Follow me on Twitter: https://twitter.com/Zmiller_82