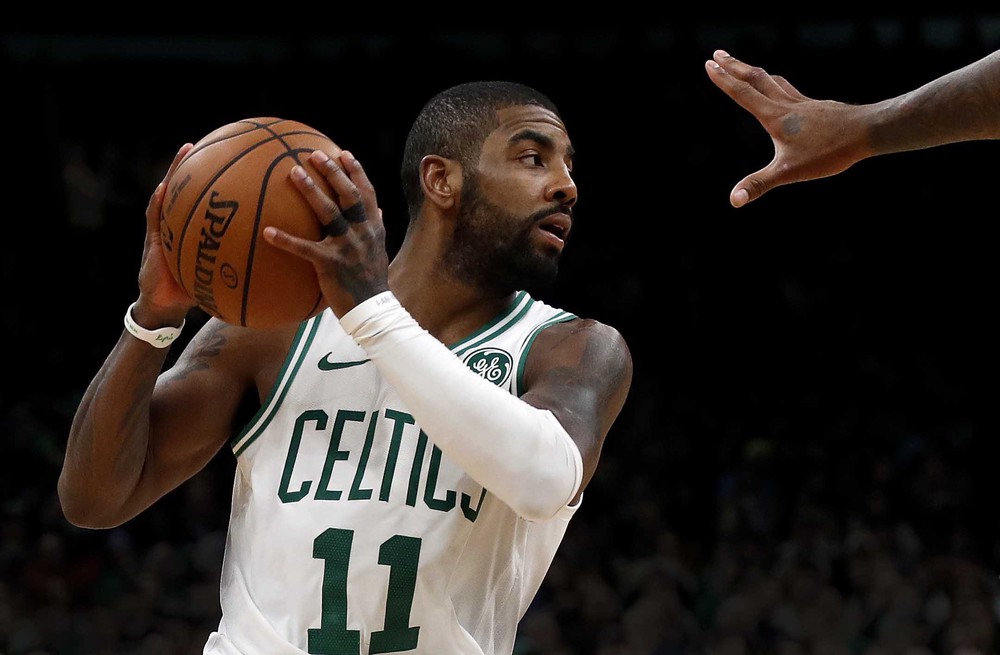 Whether it was from a new haircut or harsh criticism from a Hall-of-Famer, Kyrie Irving looked like a motivated man in the Boston Celtics' 108-105 win over the Detroit Pistons Tuesday night, scoring 31 points with five rebounds and five assists. Boston's overall record now sits at 5-2.
Irving has had a shaky start to the 2018-19 regular season. Before Tuesday night's game against Detroit, Irving was only shooting 35 percent from the floor and 34 percent from 3-point range. Following the Celtics' Oct. 20 game against the Orlando Magic, Celtics-legend Tommy Heinsohn had this to say about Irving's rough start to the season.
"I think he's maybe a little out of shape," Heinsohn stated, while recognizing that Irving was coming off of offseason knee surgery. "To me, it looks like he's a little overweight. And to me — his timing, his quickness — he's maybe an instant slower than he's been."
Heinsohn's criticisms of Irving were no doubt harsh. Especially towards a player that works as hard as Irving does coming off of knee surgery this past spring. Though he did acknowledge that he understands Irving just came off a serious injury, Heinsohn didn't hold back.
But after a haircut on Tuesday morning to remove the afro that he has been growing out for the last few months, Irving put all the criticisms to rest in the second game in a row against the Pistons.
Irving finished the fifth win of the season for the Celtics shooting 10-of-16 from the field (62.5 percent), 4-of-7 from deep (57.1 percent), 7-of-8 from the free throw line (87.5 percent) and only had two turnovers. The 31 points he scored marked the highest scoring total for the eight-year veteran since Feb. 24 against the New York Knicks (he also scored 31 points in that game).
His marquee moment of hustle in the win over Detroit was in the dwindling seconds of the game. Irving dove for a loose ball and gained possession for Boston which sealed the win for his team after he made both free throws following a foul committed by Pistons forward Blake Griffin.
After the game, Irving was asked if his new haircut allowed him to be sleeker on the floor. He said, "Maybe. Maybe," before giving his true feelings as to what motivated him to have his most dominant game of the season so far.
"Shout-out to Tommy Heinsohn," Irving said. "Real talk: he got me in shape."
Irving has stated in the past that he has great respect for the all-time greats in Celtics history. So he must have taken it to heart when one of them doubted Irving. The five-time all-star proved once again that he has the ability to take over a game. More importantly, he proved that he is still the best player on Boston's loaded team.