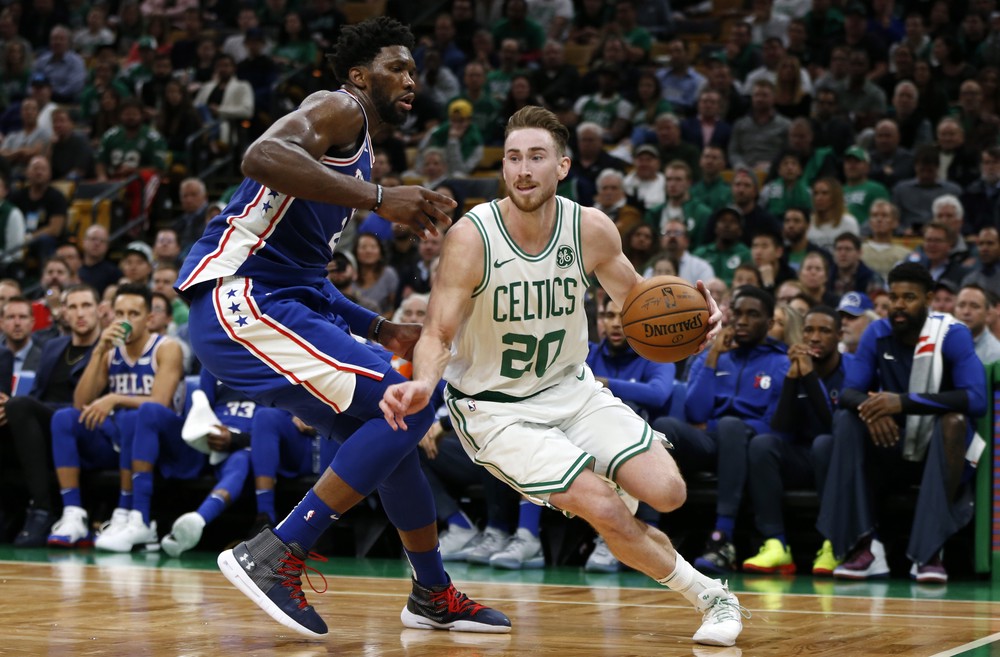 It's safe to say that last night's season opener versus the Philadelphia 76ers was a much better night for Gordon Hayward than last year's season opener.

In case you had forgotten, during Hayward's debut with the Boston Celtics last year on opening night against the Cleveland Cavaliers, it took just five minutes for Hayward's season to come to a close. A fractured tibia and dislocated ankle put Hayward out until this past Summer when he was finally able to play basketball at full speed.
So you have to think when the nine-year pro hit the court Monday night that he was having flashbacks from last year's gruesome start to his journey with the Celtics.
"Yeah it definitely crossed my mind, especially warming up and running out through the tunnel," Hayward said during postgame. "Just thought about maybe not doing any back door plays this game. It for sure went through my mind. It was a major part of my life at this point in time so I tried to just get that out of my head as soon as I started playing and once you're out there on the court some of that disappears."
After the butterflies were gone, it was time for Hayward to play some basketball. During the 18-point victory over Philadelphia, he had 10 points, five rebounds, and four steals. Though he struggled to make shots (4-of-12 from the field), one can only expect that from a player who was having very nerve-wracking and emotional night.
"It was amazing to be out there on the court again for a regular season game," he said. "My adrenaline was definitely bumping those first 3 or 4 minutes, I think everyone's adrenaline was bumping it was sloppy at first, but it was great just to be out there. That was a big step for me."
Celtics head coach Brad Stevens had this to say about Hayward returning to the floor for his first regular-season game since the injury.
"I watched him play one-on-one in August, you know, I watched him play some five-on-five in just open gym. So I've seen him and he's looked really good, and then the last week, he's been better. Looked more comfortable with us. But it's clearly something for him to kind of check the box and get it behind him and – probably for everybody, too, our guys all didn't play a game for four months at least, and sometimes the first one's hard."
Now that opening night is behind Hayward and the rest of the team, they can now shift their focus to the most important thing - bringing Banner 18 to Boston.
Follow me on Twitter (@ClemDevv) for more news and info regarding the Boston Celtics.