Luka Doncic had another amazing night for the Dallas Mavericks as he scored 11 straight buckets to win the game over the Houston Rockets, 107-104 on Saturday night.

Game Recap
Dallas started Jalen Brunson at the point guard position due to the absence of Dennis Smith Jr. Both teams are very aggressive in the first quarter battling for offensive boards and playing good defense. Rockets started the quarter with their three-point shooting as PJ Tucker and James Ennis each hits a corner three-pointer. PJ Tucker has been shooting the corner three very efficiently. I think he is leading the league in shooting percentage from the corner if I'm not mistaken. Dallas on the other hand scored their first buckets from the paint with DeAndre Jordan and Harrison Barnes leading. And for James Harden, he hits a couple of three-pointers and a driving layup in the first quarter. Dallas finish the first with a 2-point lead.
The Houston Rockets shoots more threes in the second period and they are connecting with it while the Dallas Mavericks are sticking with their inside scoring led by Jordan. Jordan also did a great job getting offensive rebounds and anchoring the defense. Doncic scored some transition buckets as well. Houston took the lead to finish the second period.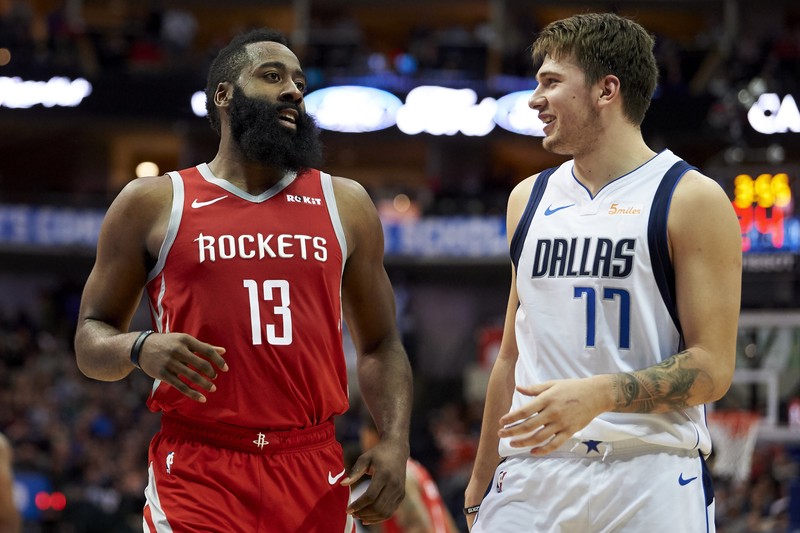 In the third, Jalen Brunson give Dallas some momentum with his sneaky defense that result to some steals and easy layups which gives Dallas up to a 5-point lead. Harden shows his offensive vastness and took over for the Rockets as he cuts the deficit and even took the lead with his buckets and assists.
In the Final quarter, the game is still close and there's a lot of lead changes, I think more than 20 lead changes in the entire game. Then the Rockets find their groove with less than 5 minutes remaining in the game and created a 9-0 run lead by Harden and Chris Paul.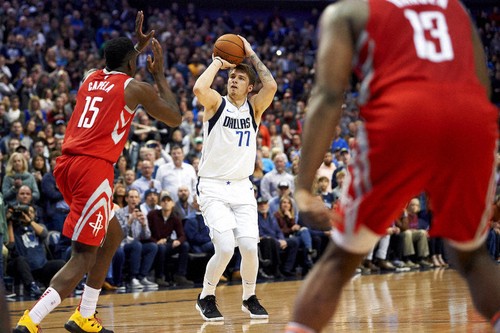 After Houston's run, the "Luka Magic" started with less than 3 minutes in the game. Luka started his run with a corner three pointer coming from Matthew's assists. With Houston leading by 5 with 2 minutes left, Luka drained one of his favorite step-back three-pointer isolating Clint Capela to cut the deficit to 3. Houston couldn't answer in that sequence as Dallas gained another possession. Luka then drives to the rim and hits a floater to tie the game at 102 with a minute and a half remaining. Rockets couldn't answer again and Dallas has possession with less than a minute left. Luka isolates Capela again and hits another step-back three to take a 3-point lead and the crowds gone wild.
James Harden drive quickly to the rim and get an easy layup to cut the lead down to 1 point with 30 seconds remaining in the game. Houston played some tight D on Luka and Dallas couldn't find him. That is when Jalen Brunson cuts to the rim and Jordan finds him for a layup to get the lead back up to 3. Harden struggles to take a decent shot against Wesley Matthews tough defense and the ball ends up to Gordon who missed the last shot and the Mavs took the win, 107-104.
Thoughts
Luka Doncic will become a star. At his young age he is able to take over some games and without any pressure, he is able to take responsibility and win a game. This kid will be something else. I think he is born for the bright lights. I'm starting to like his game and he's starting to become one of my favorite players to watch.
Wesley Matthews defense for me is a little under rated. I think he's always doing a fine job defending superstars especially when the game is crucial. Players should not take him lightly because he can provide big defensive stops.
Stats
Luka Doncic - 21 pts, 7 reb, 1 ast, 3 stl
DeAndre Jordan - 12 pts, 20 reb, 2 ast, 2 stl, 1 blk
Wesley Matthews - 21 pts, 3 reb, 3 ast
James Harden - 35 pts, 4 reb, 8 ast, 1 stl, 1 blk
Chris Paul - 23 pts, 2 reb, 8 ast, 1 stl
Clint Capela - 12 pts, 13 reb, 1 ast