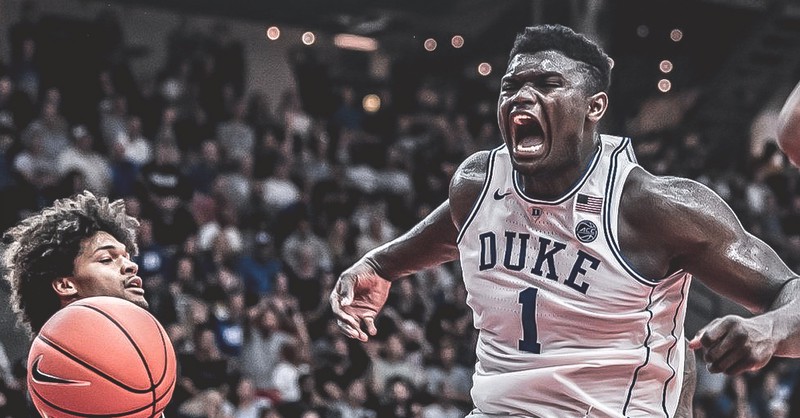 One of the top prospects for the 2019 NBA Draft, Zion Williamson has unreal vertical. This man can fly or maybe he has a spring in his legs. The high school basketball sensation is now playing college basketball at Duke University. He's listed 6-foot-7 at 285 pounds. You read it right, 285 pounds man! That was huge for an 18 year old guy who can jump out of the building.
His athletic ability at his size is unbelievable. Did you know that this kid can touch the top of the back board? You don't believe me? well, watch this video right here:
The only one other than Zion to jump as high as the back board in NBA history is Dwight Howard back in his prime playing for Orlando. But the comparison is not right, Dwight is 6-foot-11 and Zion is only 6-foot-7. This was very unbelievable. I was amazed when I saw this.
He's not only good in dunking and jumping high, his overall game is insane. His overall skill and talent in basketball is unmatched at the collegiate level. He's game is complete and I am sure he can be the top prospect in the 2019 NBA draft.
His offense is defense is great. He is a good free throw shooter, he can hustle and defend, he can block shots easily with his high vertical combined with his great timing. His court awareness is outstanding, he can see the open man and can pass the ball well. Zion can also shoot the mid-range shot and the three point shot and he is at his best when finishing strong to the rim with his NBA ready body.
I am also amazed of the way he moves in the post and in creating his own shots. He has a lot of moves and he can pass by his opponents with his dribbling skills and quickness and finish at the basket with his strength.
Let's watch some highlights from Zion Williamson:
There will be a lot of eyes who's gonna watch every Duke's game. Zion is very exciting to watch because of his energy and his outstanding performance every night. There's also RJ Barret who's also a top prospect for the 2019 NBA draft. Barret is also playing for Duke and the Duo of Barret and Williamson is very exciting to watch. They're unstoppable and will dominate college basketball. I can't wait to see them play in the NBA, the team that will be able to draft will be very lucky. They are future stars!
Here's more of Zion Williamson's highlights, Don't miss it.