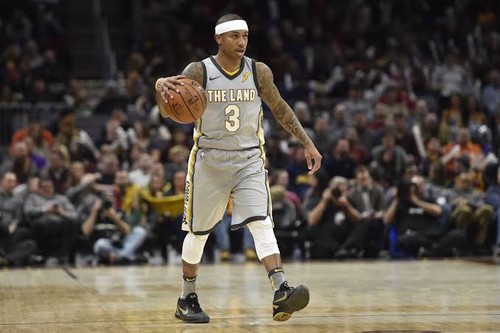 There are quite a few players to watch in Washington this season.
Bradley Beal is the first player to replace John Wall as the team's ace. Rookie forward Hachimura Rui, who is currently in the World Cup, and Davis Bertans, who joined the trade during the summer, are also eye-catching.
And this player also needs attention. Isaiah Thomas is vowing to resurrect in Washington.
In the 2016-2017 season, Isaiah Thomas was one of the best guards in the league. Even though he was 178cm tall, he led Boston with excellent agility and finishing ability.
---
This season, Thomas was selected for the All-NBA Second Team as well as the All-Star.
But during the playoffs in 2017, he was forced to play with pelvic pain. After surgery, he returned to the court in a Cleveland uniform, but his performance was awful. Thomas couldn't see him swinging more quickly than anyone else.
He signed a contract with Denver last season and also went court in the middle of the season. But the performance was not so good. In the end, Denver removed Thomas from the rotation in nine games. And this summer, Thomas chose to join Washington on a condition of $ 2.32 million a year.
---
For Thomas, Washington is now a land of opportunity. John Wall is not expected to play the whole season with an Achilles tendon injury. The amount of time you have to go back to other guards. This is the perfect team for Thomas, who is looking for a resurgence.
Thomas also has expectations. Thomas said on Twitter Tuesday, "I'm really excited about the opportunity I got from Washington. It's going to be fun."
But it's still unknown whether Thomas will be able to show his previous skills again this season. It has been more than two years since he showed all-NBA skills. The fans' expectations are now down as well. He turned 30 this year. Even if he goes downhill, it's not strange. This coming season may be the last chance for the NBA to signal the resurrection.
---
Washington, meanwhile, signed Thomas and Ish Smith at the same time to fill John Wall's gap. Fierce competition between the two is expected. In fact, Smith has shown much more in the last two years. In the last two seasons, Smith played an average of 23.9 minutes, scoring 10.1 points, 2.7 rebounds, 4.7 assists and 46.0 percent. He was the heart of the Detroit bench. If he doesn't show up early in the season, it could be enough for Thomas to lose his place to Smith.