71 Clipper bench points tonight. Thirty-six of those were by none other than Sweet Lou Williams in a 118-107 Clipper victory over the reeling Los Angeles Lakers. Neither team could shoot for shit in the first half, but the Clips ended up being the ones who regained their composure in time to pull away in a big fourth quarter.
Two bad second halves and two bad losses for the purple and gold since LeBron fell to injury. It's basically last year's squad plus a handful of over-the-hill veterans for the last two games. It's a shame that this Laker squad hasn't been able to stay healthy long enough to flex their muscle for an extended period of time. Right as they started finding their stride as a unit, they beat the Warriors in Oracle Arena (without starting center JaVale McGee, mind you). Since then, they've dropped winnable games to Pacific Division rivals Kings and Clippers and a solution seems out of sight until we get LeBron back. Time to play the waiting game folks. Take a look at the quarter-by-quarter recap and takeaways below.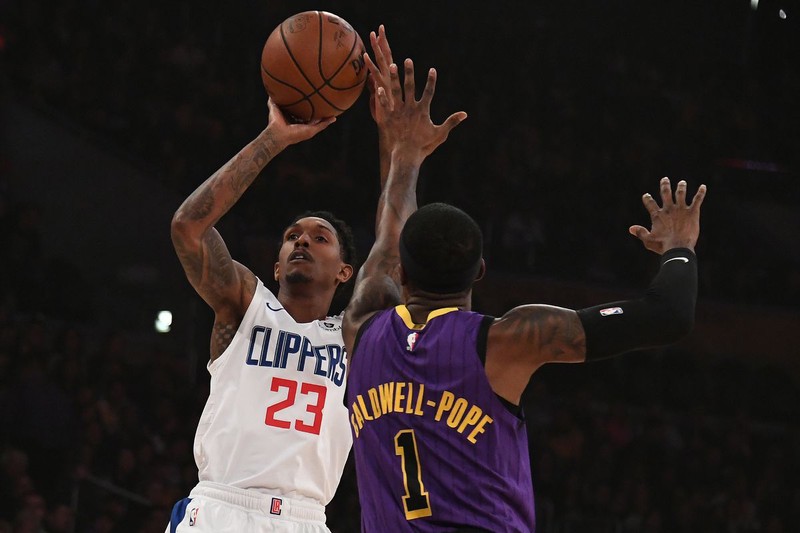 _______________________________________________________________________________________
Rhythm Of The Game
First Quarter
The Clippers were in the superior offensive rhythm early on. Tobias Harris was the main one collecting buckets but Boban Marjanovic took advantage of his 7'3 brutish frame for some power-buckets of his own. He was also demolishing Ivica Zubac who went 0/5 to start the contest. The Lakers were basically throwing things against the wall to see what stuck, and things were latcing on just about as well as the bottom of an old sticker covered in dust.
Brandon Ingram's offense was refreshingly aggressive to kick things off, but he eventually reverted into his typical mid-range brick game. The energy was just lacking for the Lakers, especially in the rebounding department. The Clippers were clearly making them play their game as we rolled into the final minutes of the first. The Lakeshow's collective shot looked horrific. I think they were still shaking off the bad juju from Sacramento. Clipper lead after the first twelve, 28-23.
Second Quarter
Thankfully for the Lakers, the Clips weren't shooting lights out either just yet. Tobias Harris and company were just a smidge over 40% from the field while the Lakers hovered slightly below. Both teams found success when they drove and slashed into the paint over settling for jumpers. This one was just morphing into an aesthetically unpleasing display of basketball.
Right before I was about to fall asleep from dull, angry boredom, Josh Hart sank a three to take the Laker lead, 44-45. I was surprised at how horrid the Clippers were shooting too - usually it's the Lakers going into extended slumps. An awe-inspiring sequence at the end of the half saw Lonzo throw a wild, spinning behind the back pass off a turnover to Chandler for a dunk - then he banked a three of his own in on the very next play! Five-point turnaround in the span of what felt like three seconds! But after that Lou Williams heaved a half-court prayer for the Clippers - which miraculously went in! A crazy minute of action to counter the overall putridity of the first half. Both teams were now shooting under 40% as the Lakers held a three-point halftime lead, 51-54.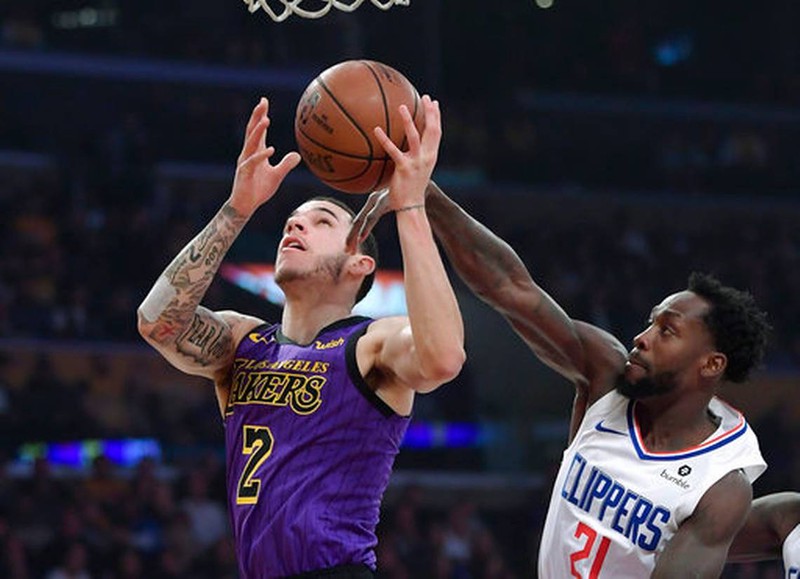 Third Quarter
The same level of play carried over a bit to the third for both squads. Each team found success closer to the rim save for a corner three here or there. The Clips struggled from the field, but they were superb from the free throw line shooting 15/17 with three minutes to play. Lou Williams predictably stepped up as their go-to guy as the quarter winded down.
Lonzo was running some nice action out of the pick & roll - his teammates just weren't converting at a satisfying clip. He was getting people open with these slick bounce-passes, but the Clippers were just doing a great job of harassing the Lakers on the interior. Kudos to them. The purple and gold held a lead all quarter but the Clips ended up stealing it back 82-80 after an energizing 11-0 run to finish the quarter.
Fourth Quarter
The Lakers had to respond or the Clippers were going to run away with this on the slender back of Lou Williams. A couple of quick baskets and three free throws later, and the Lakers were all of the sudden trailing by eleven! The Clippers were on a ridiculous 20-0 run!
This one was just slipping away from the Lakers. Eight minutes left and the Clips up sixteen. It was a totally winnable game at one point but hope was fading based on how terrible the Lakers shot's looked. The Clippers, on the other hand, finally unearthed theirs. Thirteen second-half turnovers didn't help the Lakers either.
This one seemed like it was in the refrigerator but then we saw the tides briefly turn out of nowhere. Kuzma and Ball hit back to back three's to cut it to a ten-point game. Five minutes to play. We were still in this!.....Then Gallinari hit us with a triple to bring the Lakeshow down to Earth. Right after that, Josh Hart got T'd up after he got blatantly offensive fouled by a charging Tobias Harris on the baseline. Josh was subsequently tossed - and he was HEATED. Lakers down sixteen with 4:40 to play and this one felt like a longshot. The inevitable Clipper victory then reared its ugly head, 118-107
_______________________________________________________________________________________
Takeaways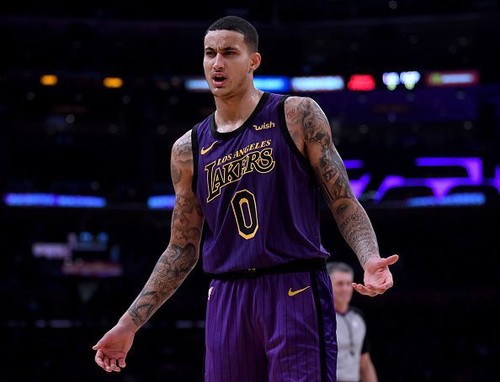 I thought watching this version of last year's LeBron-less team was going to be a fun, eye-opening experience for the rest of the NBA. We were going to put the league on notice! Things seemed like they were going that way until they let Bogdan Bogdanovic turn into Sacramento's Michael Jordan 1998 Game 6. Before then, Kuzma was humming, Ingram was vibing, and Lonzo was feeling it with a high usage rate we had yet to see this year. Now it feels like we've taken three steps back after facing the opportunity to take one forward.
Players fell back into old, iso-heavy habits tonight when their backs were against the wall. Luke Walton and the coaches need to get more creative when the team falls into an offensive rut like that. I'd love to see some more off-ball cuts run for BI. Maybe a little bit of Princeton offense action??? I don't know, something to get some momentum going.
The Lakers desperately need to win this next game against Sacramento. After Sac they have the Thunder, who are turning into one of the NBA's better regular season teams this year. Paul George is generating MVP buzz while playing next to a struggling Russell Westbrook. They're going to have their hands so full defensively with George. This'll be a great opportunity for Ingram to step up and show his worth to the fans and organization. Even so, my hopes aren't high for that Thunder game sans-LeBron.
This loss puts the Lakers record at 20-16 and in seventh place, one game out of the eighth and final playoff spot. This is a painful reminder of why every win matters in the West. This conference is unforgiving, but maybe today's losses will pay dividends when the pressure of the playoffs emerges at its zenith.