Another day, another infuriatingly embarrassing loss for the Lakers against a bunch of bums with a false sense of confidence. The Minnesota Timberwolves executed a Sunday stomping on the Los Angeles Lakers, 86-108. That Christmas day victory against the Warriors seems so long ago.
In recent games, the Lakers let the 9-win New York Knicks cop a W over them, now they get blown out by the Minnesota Timberwolves in a completely uninspired performance (save for one bright spot) to bring their record to 21-18 and 1.5 games away from losing the eight seed they currently hold.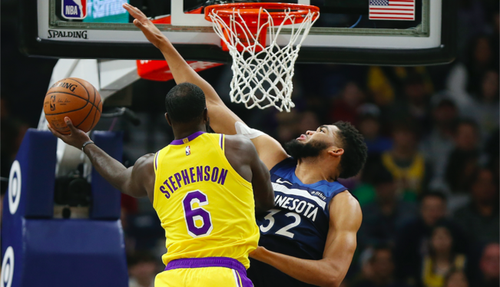 It's easy to point to injuries as the main culprit of the Lakers struggles, but it's not like they're losing neck-and-neck games where they've remained competitive throughout. They're giving up fourth-quarter leads to garbage teams and getting blown out on the road. Results like these ultimately fall on the players, but even the most staunch Luke Walton defenders have to be questioning Luke's ability for this head coaching job.
Good coaches will make the necessary changes to remain competitive even if their best pieces go down. Brad Stevens took a group of inexperienced cast-offs to Game 7 of the Eastern Conference Finals last year after he lost Kyrie and Hayward, and he worked magic the year before with Isaiah Thomas as his only star. Luke Walton doesn't seem to have the innovation, or clever audibles up his sleeve to be a top level coach, nor does he have the personnel within his assistant coaches to bring a fresh perspective when things are stagnant. And oh boy, they've been stagnant for a while now - especially offensively. Check out the rhythm of the game and takeaways below.
Rhythm Of The Game
First Half
The TWolves hopped out to an absurd 3-22 advantage early on thanks to their humming offense. Jeff Teague led the way with a couple of wide-open three-pointers and the big men were getting whatever they wanted inside. The Lakers on the other hand, looked overmatched as they tried to press the issue in the painted area, but KAT and Taj Gibson were like a wall. They didn't relent a THING to LA's young guards and forwards.
Luke emptied out the bench mob after some impotent play from his starters. The benchies looked slightly less incompetent on offense than the starters, but it still wasn't pretty. Four straight blown layups and clanged attempts at the charity stripe were balanced out with spurts of scoring by Lance and Beasley. The TWolves ended up big to end the first quarter of play, 19-35.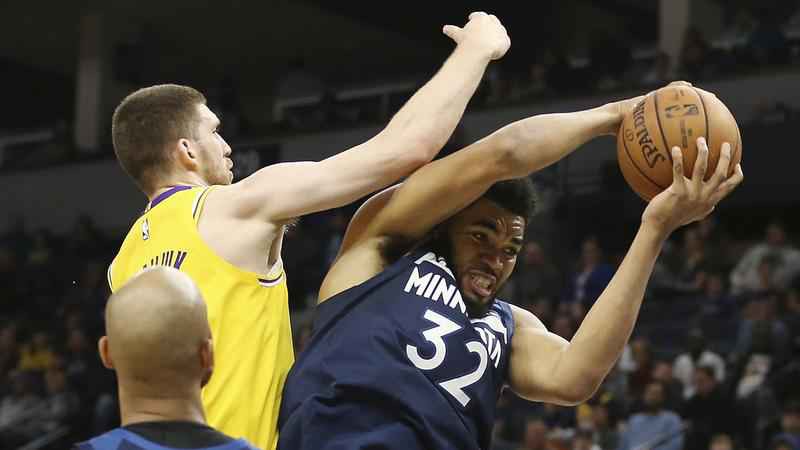 Things continued to be a hot mess for the Lakers, who were down by twenty only three and a half minutes into the quarter, 23-43! Wiggins averages 17 for the year, but he already had 18 in the contest thanks to the pathetic Lakers defense. Still, Luke chose to run with the bench unit for a little longer than usual because that's how bad the starters looked. The defense was an issue, but the reason the Lakers are so terrible with all these injuries is that no one can provide reliable offense.
And right as I cursed the Lakers sputtering attack, Brandon Ingram went on basically a one-man run to cut the outrageous lead to reachable levels, 39-51. If they could go into the half only down by ten, they'd be in good positioning for a comeback. But of course, they folded when they had the chance to cut it to single digits.
The TWolves were showing off at this point with overly flashy transition handles and dunks. Teague(15 pts, 5 rebs, 6 assists), Towns(12 pts, 6 rebs, 2 assists, 1 steal, 3 blocks) and Wiggins (25 pts) were all balling out of their minds. I hate it when the TWolves and Towns think they're good. Towns & Wiggins are scared little boys who got bullied by Jimmy, now they think they're hot shit as they sit atop of 19-point lead after two quarters, 45-64.
Second Half
To kick things off in the third, the Wolves unleashed a flurry of baskets within the restricted area to maintain that twenty point edge over the Lakers. The Lakers were able to cop a couple corner three's and a dunk to prevent this from turning into a thirty-point blowout just yet. Overall, the Lakers kept playing like a team bound for the lottery on both ends. Brandon Ingram filled the role of the young star with all the "potential" who jacked up bad shot after bad shot.
The body language looked horrendous out there. Guys were slouched, pounding the ball in frustration as the scatterbrained defense gazed wide-eyed at the TWolves blazing them by. It had me wondering whether we'd hear about LA hosting a players-only meeting after this frustrating outing in a series of many. TWolves still up big heading into the fourth, 68-82. The end of the third and entire fourth quarter was just pure garbage time, with one surprising bright spot. Check it out in the takeaways section below.
Takeaways
Out of the dark pool of sadness that was the Lakers offense, Moe Wagner emerged as a passionate bright spot. He was fired up, stripping Wiggins, diving for loose balls, nailing a triple here and there. Not to mention he was out there red-faced, talking a grip of trash too. That energy was contagious, it invigorated the other guys in this increasingly meaningless game.
He was the only guy who played like he cared in this whole game. I can' wait for the day when he can get regular minutes in meaningful games. His energy and toughness are a total asset, and you can never have too much three-point shooting. With how bad the Lakers look, I say you just run with big minutes to Moe until LeBron gets back. Nothing else seems to be working now.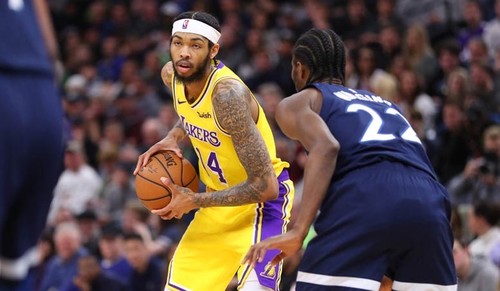 That was the only bright spot that I could muster up coming out of this game. Just another overall pathetic effort by the young stars(Ingram, Lonzo) and Luke Walton. I've given Walton the benefit of the doubt for a while because I feel people turn on the coach too quickly, but Luke has shown a lack of innovation on the offensive end that is incredibly concerning.
Still, I don't know if getting rid of Luke Walton right this moment would be the most realistic, and even sensible option. No options in the current free agent pool of coaches are intriguing, and if a totally new guy came in right now it'd take time to learn a new scheme, build relationships etc. etc. This period just feels really frustrating because of injuries, but damn it I wish Luke would get a little more creative with the offense.
Use Brandon Ingram off-ball more, don't make him our go-to guy anymore. He's just not equipped for it right now. The problem is, with all these injuries the "go-to-guy" options are slim. When LeBron and Kuz come back, I hope Luke runs more off-ball action with BI. Set him up for more corner three's. He was a great three-point shooter last year (39%) because he took a ton of his attempts in the corner in catch-and-shoot opportunities.

I'm scared of how much longer the losing skid will last. The Lakers will face the Pistons in Staples Center on Wednesday. Kuzma's impending return gives me the slights bit of hope, but I don't have much faith in these guys until we get at least LeBron back.