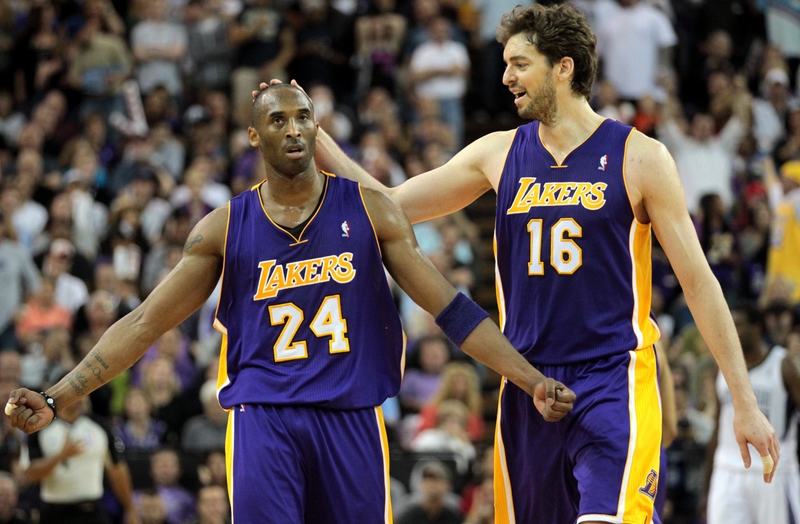 Every once in a while a team comes through your life that gives you these moments that make you feel alive. The Los Angeles Lakers from 2008-2010 did just that to me. The Kobe and Pau Gasol Laker squads drew me back into the sports world after a brief hiatus and led me to fall in love with the game of basketball from the eyes of a spectator.
I have two passions in life: sports and music. I played baseball from elementary school up until high school. I quit my school's team about halfway through my junior year because I just lost interest in baseball, and sports in general. To this day it's one of my regrets.
I left the team because schoolwork and life were on the precipice of becoming overwhelming. I was taking AP courses and doing all sorts of stupid tasks to prepare for college applications. I'm bad at multi-tasking. I needed to cut things out of life so I could preserve my energy to complete the things I needed to do. In addition, I wanted more time to pursue my burgeoning interests in music and photography. I wish I just stuck it out though and played the rest of my high school career. I missed out on some serious moments of character building and camaraderie, but it takes an experience to be taken away for you to really appreciate what it was worth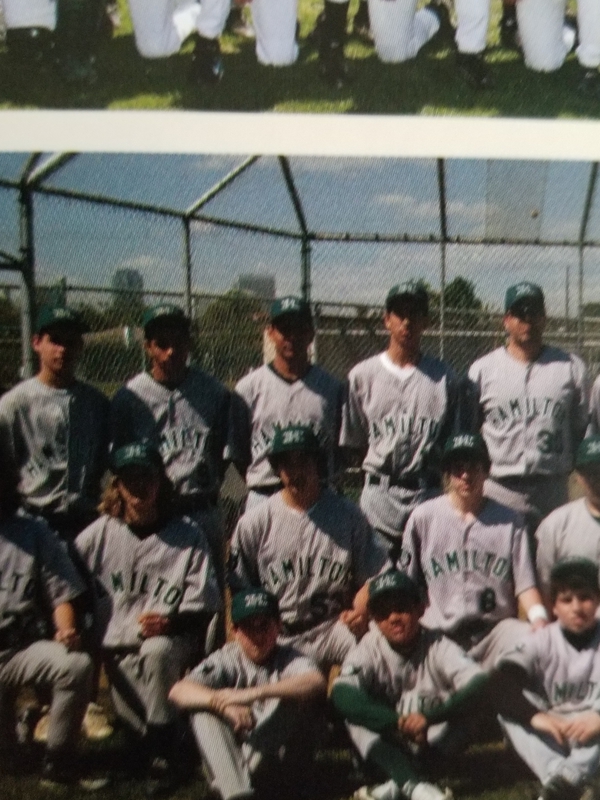 While I was tinkering around with old cameras and attempting to teach myself guitar, the Lakers actually became good again! They had been floundering aimlessly since Shaq left in 2004, searching for some sort of identity in an NBA landscape that was seemingly passing them by. We still had Kobe who was this fine jewel of potential, but none of his teammates had the talent, cerebral capacity, or fire within them to keep up with his drive. My interest for the team somewhat fell off the radar as I went about my life. In addition to the schoolwork, I was also very busy trying to figure out how to get girls to like me. The Lakers weren't on my mind just yet.
I came back into the fold thanks to one of the most seemingly one-sided trades of all time. I was walking around my house when I overheard the Lakers got a really good player in a trade with Memphis. LA acquired a skilled, big man who was packed with finesse named Pau Gasol. In exchange, they only gave up a wily group of bums to Memphis who we didn't want anyway: Kwame Brown, Javaris Crittenton, Aaron McKie, the rights to Marc Gasol.
On the surface, it was hilarious how badly the Lakers fleeced Memphis! It was highway robbery! It wasn't until Marc Gasol blossomed into a Defensive Player of the Year and a potent offensive player that this trade started looking even. I'll let good old Stephen A. Smith put it into context for you below back when the trade happened:
The Lakers still had Kobe in his prime, but this move was the final piece of the puzzle that we didn't even know we needed. Pau played his first game for the purple and gold in February and made a stunning impact right away on both ends of the floor. We blazed our way back on top of the Western conference and dominated our way through the 2008 playoffs. Soon enough, we were back in the NBA Finals against our hated rival throughout history: The Boston Celtics.
I had been a Laker fan since I was 7 years old when Kobe threw that lob to Shaq in Game 7 against the Portland Trailblazers in the 2000 Western Conference Finals. That was my first, and one of my most cherished Laker memories. I didn't know the rules of basketball or playoff seeding yet as a 7-year-old, so when Shaq slammed home that lob to ice the game, I actually thought we won the championship right then and there! Just because everybody was going so wild! It was soon explained to me that we didn't do it just yet, this was only the Conference Finals. Shortly after, they won their first championship in over a decade which began the first three-peat since Michael Jordan. Here's the infamous lob if you aren't familiar
Here we were again though, eight years later, and back in the final round against our old green rival. In the days leading up to the 2008 finals, I realized I would finally have a Lakers-Celtics series to call my own. I was excited to witness a new chapter in the NBA history book, only this one turned out to have an ending I didn't like.
They battled and battled for the first three games, then when it looked like the Lakers had it in the bag for Game 4, but the Celts went on one of the greatest runs in NBA Finals history on LA's home floor. They came back from 24 down to steal a win on the road and go up 3-1. The Lakers won Game 5, but then Boston proceeded to lay down one of the most excruciating ass-kickings in the Finals for Game 6....92-131 to clinch their title. The game was over before the fourth quarter started. Jubilant Celtics fans were already celebrating by puffing up cigars as a homage to Celtics legend Coach Red Auerbach. I was crushed, along with the entire city of LA.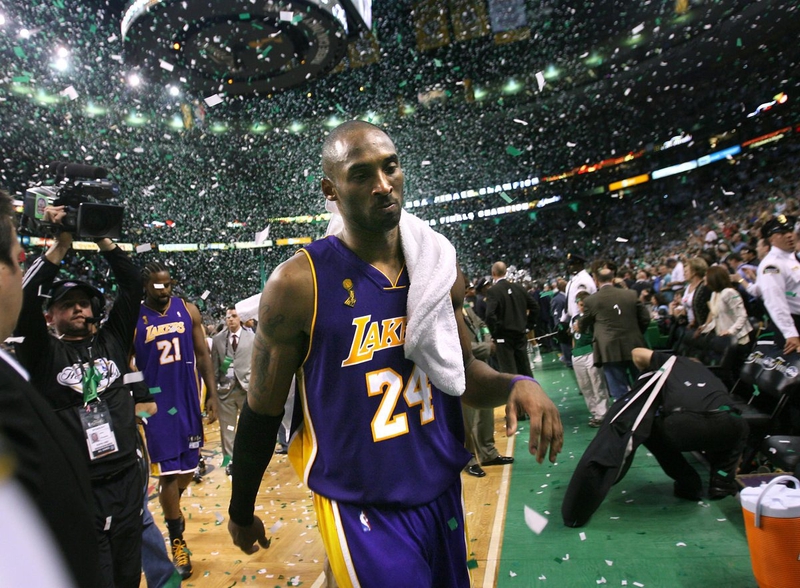 So after the summer passed and we were done licking our wounds, the guys came into the year with a VENGEANCE. They took the Western Conference's top seed, emerged from the rubble back into the Finals, where they won the first Laker championship since 2003 against Dwight Howard's Orlando Magic. They didn't get that rematch with the Celtics because Kevin Garnett incurred an injury late into the season. They didn't have to worry though. Next year would be the true chance for revenge.
The Lakers battled complacency all throughout the 2009-10 NBA season to make it back to the NBA Finals for another shot at the Boston Celtics, who had a healthy Kevin Garnett once again. It was an exhausting, emotional, vitriolic wonder of a series that culminated in one of the ugliest games I've ever seen with my own two eyes. Kobe Bryant shot 6/24 in the deciding Game 7 of the series, and the Celtics were leading them by 15 for what felt like the entire length of the contest. Kobe couldn't hit water if he threw a rock into the ocean, but he battled and battled for dear life. He helped his team in other ways like rebounding and defense (15 rebounds).
Somehow the Lakers stayed in it despite subpar games from their stars, but unexpected surprises propelled them to victory like Metta World Peace's (formerly Ron Artest) three-pointer to ice the lead in crunch time! He will always be a beloved figure in Los Angeles for that shot alone. Everybody in Southern California held their collective breath until Lamar Odom threw that ball up into the air to put the game out of reach and let the clock expire! They did it!!!! All of the players just started breaking down in tears of joy! I had no idea I was so invested in this team until the final buzzer rang and I suddenly burst into tears of joy myself! Did not anticipate that at all! Here's a recap of that insane series and Game 7. I seriously have to fight back tears just watching the slow-mo replays
2010 NBA Finals Mini-Movie
It was such a beautiful moment that I'll hold with me forever. To win in that ugly way against the team that mangled our hearts and our spirits. That game was won off of pure heart and guts from the boys in purple and gold. After I settled down, I realized that I was experiencing what might end up being the best sports moment of my life. And I just became a sports fan again merely two years ago.
It's incredibly hard to imagine any other victory in the world feeling any more satisfying than the Kobe/Pau/Lamar Odom/Derek Fisher/Andrew Bynum Los Angeles Lakers getting redemption against the Paul Pierce/Kevin Garnett/Ray Allen/Rajan Rondo Boston Celtics - in Game 7 no less. To get our souls publicly sacrificed ancient-Aztec-style in 2008 - then to carry that negativity for two years - then to set it all free in a moment of joy. I'll never forget the way they made me feel. If I'm on my deathbed reflecting on things, and this moment still holds up as being the best sports moment of my life, then that's totally fine.