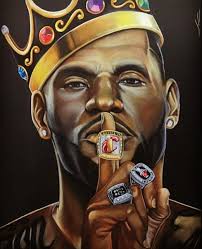 I knew since the first day i saw Lebron that he has the potential to be a great player, i saw him as a complete player that can play in any position and dominate on the court. He became an immediate star after skipping college to join the NBA's Cleveland Cavaliers. He led the Miami Heat to NBA titles in 2012 and 2013, and won a third championship with Cleveland in 2016. With his unique combination of size, athleticism and court vision, he became a four-time NBA MVP.

In January 2018, at age 33, LeBron James surpassed Kobe Bryant as the youngest player to accumulate 30,000 career points and became the seventh player in NBA history to achieve that milestone. The feat put him just more than 8,000 points shy of Kareem Abdul-Jabbar's all-time record of 38,387 points.
After 15 NBA seasons, LeBron James' stats include career regular season averages of:
27.2 points
38.8 minutes
0.739 free-throw percentage
0.344 3-point field goal percentage
0.504 field-goal percentage
1.2 offensive rebounds
6.1 defensive rebounds
7.2 assists
0.8 blocks
1.6 steals
3.5 turnovers
Height and Weight
LeBron James is 6 feet, 8 inches tall and weighs 250 pounds.
He recently opened a school for kids that are vulnerable, precisely 240 at risk students, he created the school as an extension of the LeBron James Family Foundation to give kids opportunities to thrive despite difficult life situation. The I Promise School is a joint venture between the foundation and Akron Public Schools. The school board oversaw the creation of the curriculum and ensured the school would meet educational standards, while LeBron served as the primary donor to help shape the outside-the-classroom goals of the school.
LEBRON JAMES MY FAVORITE ATHLETE