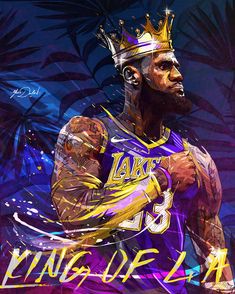 If you have been a loyal fan to the NBA or just a individual who casually checks into the news of the NBA here and there, then you would know that Lebron James has ruled the NBA for the last 8 years.
With 8 consecutive NBA finals appearances (9 overall), Lebron James has successfully inserted himself in the 'All-Time Greats' conversation with consistent dominance over this time period. However, over this off-season break, Lebron has changed destinations and ended up in the City of Angels.
With this new team which consists of a very younger core including the likes of Lonzo Ball, Brandom Ingram, and Kyle Kuzma mixed with new additions including Javale Mcgee and Rajon Rondo could prove to be the correct formula in which Lebron is searching for. The Lakers brand itself provides many opportunities in being a competitive team due to the organisation's success over the years which forces players to meet that level when representing the prestigious brand.
With the incorporation of Lebron James into this highly adaptable squad, progress throughout the 2018-2019 season could show that the Laker's team could be a threat in the Western Conference come post-season.
Is Lebron's Reign Coming to an End? Will Father-Time Overcome the King's Resilience?
As new superstars are coming into their prime, with the likes of Anthony Davis, Giannis Antetokounmpo, whilst having Kevin Durant itching to claim your throne, will Lebron James be the best player in the world at the end of this season?
Throughout the first 3 games of the 2018-2019, Lebron James has averaged 24 ppg, 8 rpg, and 6.6 apg demonstrating that Lebron has no intentions of slowing down considering he has only played 36 minutes on average each game. Even though we don't see Lebron's full potential until post-season, it is important to evaluate his regular season performance against other superstars as it is still a statistic used to compared rankings.
Kevin Durant has entered the season in stride posting a stat-line over the first 3 games consisting of 26.6 ppg, 8 rpg, and 5.6 apg whilst playing 35 minutes each game. Both superstars have impressive starts to the season whilst demonstrating a casual, laid-back approach to the start of the season.
Do you think Lebron James has what it takes to remain the #1 player in the world? Let me know your thoughts!
Will be posting NBA and Blockchain thoughts daily to interact and discuss the important areas of these two interesting and impactful topics