Hey guys, back with another round of daily NBA picks. Yesterdays picks went 3-0, the Hornets, Nuggets, and Raptors all came through and covered their spreads with the Raptors winning outright as an underdog in Utah. 9 games tipping off tonight, so let's get to it.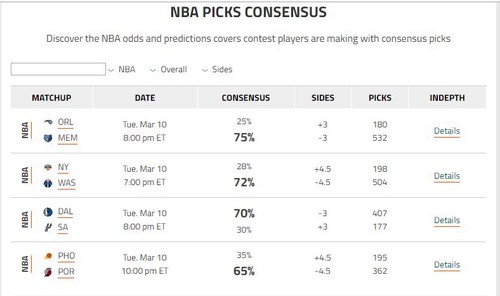 Magic Vs Grizzlies. Grizzlies favored by -3. Both these teams have been playing better lately which is why I think this spread is so low. The Magic beat the Grizzlies by 32 earlier in the season. I think the Grizzlies play better this game since they get this one at home. Play Grizzlies -3.
Knicks Vs Wizards. Wizards favored by -4.5. The Wizards have taken 2 of the 3 meetings between these teams this year but no home team has won in this series. I think that part changes here and the Wizards take this one. Play Wizards -4.5.
Mavs Vs Spurs. Mavs favored by -3. The Mavs have won all 3 games in this series so far this year. The Spurs get this game at home and I think they'll play hard to try and get this win. Play Spurs +3.
Suns Vs Blazers. Blazers favored by -4.5. Both these teams are headed in opposite directions. The Suns have won 2 in a row while the Blazers have lost 2 in a row. They've also lost 2 in a row against the Suns, I think they turn it around here. Play Blazers -4.5.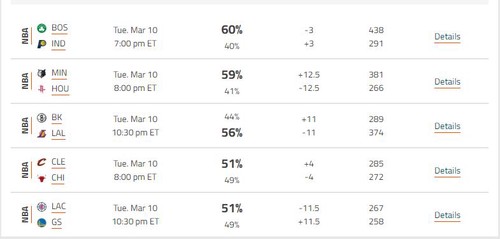 Celtics Vs Pacers. Celtics favored by -3. The Pacers are coming off a 5 game road trip where they went 4-1. Boston is coming off 2 losses and have lost 4 of their last 5. I think they try and turn it around here. I don't like taking teams in that first home game off a road trip. Play Celtics -3.
T-Wolves Vs Rockets. Rockets favored by -12.5. Suddenly the Rockets have lost 4 in a row and are searching for answers. Well this T-Wolves team is pretty bad so they can begin to turn it around here tonight in this one. This spread is really high but I think it's high for a reason. Play Rockets -12.5.
Nets Vs Lakers. Lakers favored by -11. The Lakers are fresh off some huge wins and the Nets have been playing pretty well lately. I think this line is a bit too high, the Lakers will likely let down here against a clearly inferior foe, while the Nets will be ultra focused to try and compete in this game. I'm taking the points. Play Nets +11.
Cavs Vs Bulls. Bulls favored by -4. The Cavs have pulled off some big upsets in their last 2 games while the Bulls have lost 3 in a row. I'm not sure why the Bulls are favored by this much in this game. I know that the Cavs are playing hard and competing while the Bulls sometimes look out of it. Play Cavs +4.
Clippers Vs Warriors. Clippers favored by -11.5. The Warriors had a big comeback win against the 76ers last game while the Clippers lost to the Lakers last time out. I think the Clippers are the vastly superior team and they have a reason to play hard and get this win. Play Clippers -11.5.
Those are my picks for today, good luck with your picks/bets!