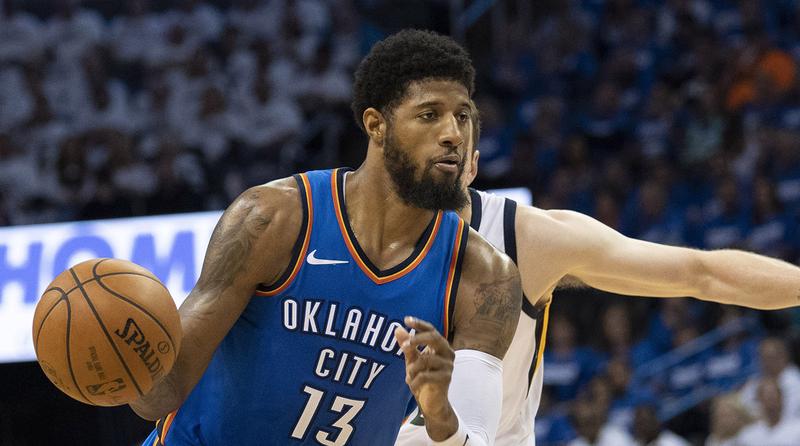 The first major domino has fallen in this highly anticipated free agency, as ESPN reports that Paul George has confirmed he will opt out of his current contract and become an unrestricted free agency on July 1st. Whilst this doesn't mean that he will be leaving the Thunder, here are the most likely outcomes:
Paul signs a max deal with the Thunder
Although everyone tipped Paul George as a lock for the Lakers, recent reports suggest there's a stronger chance that he'll resign with the Thunder. Again, opting out does not mean he's leaving, just that if he is staying in OKC, he will be wanting a new max contract. It's the money card that provides Oklahoma City with the most leverage, as they can offer a deal that is a year longer and almost $50 million dollars more than any other team in the league. With Russell Westbrook and Steven Adams signed, Carmelo Anthony returning for a final year and Andre Robertson returning from injury, perhaps George will see this as the best option to compete, whilst getting paid the prettiest penny available on the open market.
PG to LA finally happens
Even with the Kawhi situation, it seems that Laker fans still want to see Paul George in the Purple and Gold this summer, after 40 billboards were put up by LA attorney and Lakers season ticket holder Jacob Emrani. See below: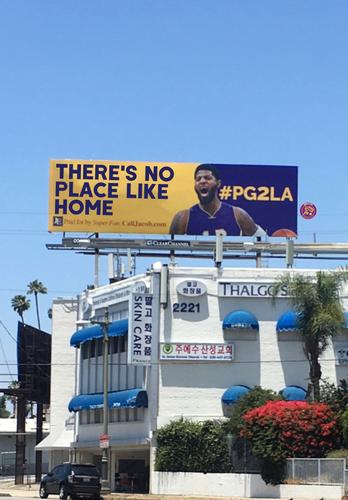 The LeBron and Paul George dream is still alive in Los Angeles, and if he doesn't resign with the Thunder, you can almost guarantee that he'll be playing his basketball at the Staples Center next season. The Palmdale native expressed his desire to play for the Lakers when he sought a way out of Indiana over a year ago, and this free agency provides maybe his only opportunity to do so in his prime. He'd have to leave a fair amount of money on the table, but home is home, and there's some things that you can't put a price on. Seeing as it's been reported that his family wants him to make the move to the West Coast, there's a strong chance that Magic Johnson and co. will be able to pull on those heart strings and convince him to make the move; which is clearly the plan, given the details of the Lakers' leaked pitch.
Wild Card: The Sixers somehow make a move
Although the Sixers still believe that they have a strong chance of acquiring LeBron this off-season, a move to Philly makes great sense for George from a basketball standpoint. Playing alongside a premier ball handler in Ben Simmons and a guy in Joel Embiid who is on his way to being the best big man in the game, PG's off ball skills and three point shooting could take this Sixer team to the next level. Not to mention his defence, which would make an already top-five defence in Philly even more formidable. It's hard to see Paul George turning down both the money and his hometown team, when both options also provide him with solid players to shine alongside...
...But this is free agency, anything can happen.
Where do you think George will be playing next season? Comment below!