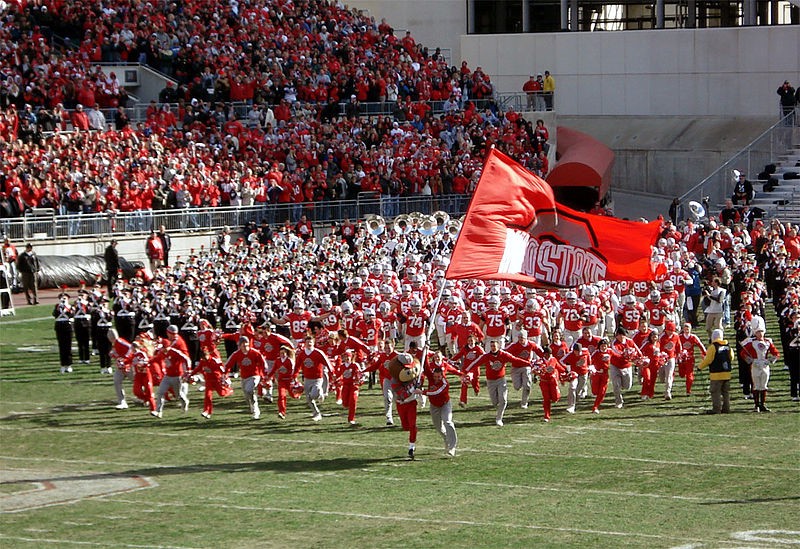 You will notice a lot of teams did not cover their ridiculously high spreads.

In the two games that involved teams that were both in the Top-10, I did the recap on the first game and Stats on the opposing team.
Since we had two Top-Ten matchups, we have two losers this week. Let's get started.
The Top 10
#1
Alabama 56 – Louisiana Lafayette 14 Did not cover the 48.5 spread
Cupcake Game
The best thing I can say about this game, all Alabama players had the opportunity to play.
Alabama had the 48.5 point spread covered by half-time but then allowed ULL to score two touchdowns while Bama was playing their 3rd and 4th string defense. The depth chart grew.
One thing Alabama needs, a kicker! Alabama missed two field goals in Saturday's action.
Undoubtedly, our grad-transfer kicker and our freshman kicker are showing that they can kick field goals in practice, the coaching staff seems to have a lot of confidence in them. Neither one has shown in a game what they can do.
Jalen Hurts lost his red-shirt season when he went onto the field in the second quarter to an appreciative Alabama fan base that gave him a standing ovation. Jalen will still be able to transfer after graduation and play one more season as a grad transfer.
Alabama travels to Arkansas - Saturday 10/6/2018 at 11 am
#2
Georgia 38 – Tennessee 12 Did not cover the 31.5 spread
Regular Season conference match up
Georgia practiced their run game against the Vols this week and back up quarterback, Justin Fields got a lot of game experience by coming into the game in 3 of the 4 quarters.
Tennessee showed improvement also, they had only one turnover against the Bulldogs to improve over their 6 turnovers against the Gators the previous week.
Georgia controlled all aspects of the game. They were able to rush for 251 yards on offense, this was Coach Kirby Smart's game plan coming into this game, ground and pound and that was what he did.
The Bulldogs rushed for more than 5 yards per carry against the weak Vols defense.
Georgia will play host to Vanderbilt – Saturday 10/6/2018 at 6:30 pm
#3
Clemson 27 – Syracuse 23 Did not cover the 23.5 spread
Regular Season conference match up
Clemson had several major struggles on Saturday against a Syracuse team that came ready to play and play hard they did. Syracuse was able to force three Clemson turnovers and led the game by 23-13 with only a little more than 12 minutes remaining in the game. Clemson's defense held the Orange out of the end-zone while the Tigers put up 14 unanswered points. The next touchdown came quickly for the Tigers to make the score 23-20 Syracuse.

It was the next Clemson drive that defined this game. Coach Dabo Swinney's freshman and sophomores stepped up to the challenge. Redshirt Freshman quarterback Chase Brice stepped up to lead the Tigers on a 94-yard offensive drive that was capped off by sophomore Travis Etienne's two-yard touchdown run!
A determined Tiger defense sacked the Syracuse quarterback twice in their final drive to end the game 27 – 23 and assure a Clemson victory and to remain undefeated.
Clemson will travel to Wake Forest 10/6/18 at 2:30 pm
#4
Ohio State 27 – Penn State 26 Did not cover the 3.5 spread
Regular season Big10 matchup
This was probably the best game of the day! It was hailed to be a hugely important game and it was a clash of the titans!
In a record-breaking crowd of almost 111,000 fans, mostly dressed in white, the Buckeyes and the Nittany Lions put on a show of strength that will have people talking for years to come. One of the most beautiful catches I have ever seen was Penn State receiver, Juwan Johnson's one-handed catch for 31 yards that sat up the first Penn State score with a 3 point field goal.
Ohio State took control of the game in the waning minutes of the fourth quarter with two great drives that the Lions could not answer.
Penn States quarterback said it was very emotional in their locker room following the one-point loss and everyone in there was thinking, "what could I have done better?"
Ohio State will welcome Indiana 10/6/2018 at 3 pm
#5
LSU 45 – Ole Miss 16 the 12.0 spread was covered
Regular SEC matchup
It looked like the LSU quarterback, Joe Burrow, show! Coach Ed Orgeron doesn't want to expose Burrow to too many rushing tackles, so he keeps him protected and passing as much as possible. You see, LSU has only one quarterback on scholarship this year! It is extremely important to keep this young man safe and able to pass the ball.
The Ole Miss Rebels hurt themselves a lot with 17 penalties for 167 yards! That number is just unheard of and unacceptable.
LSU was able to accrue 573 total yards of offense and 33 first downs in their beat-down of the Rebels. The Tigers offense was very balanced with 292 yards passing and 281 yards rushing. It is hard to stop a team who can do both and do them both effectively.
LSU travels to Florida 10/612018 for a 2:30 pm kick-off
#6
Oklahoma 66 - Baylor 33 23.5 spread was covered
Regular Season Big12 conference matchup
Very typical Big12 conference shoot-out with high powered, fast scoring offenses that have zero to little defense. It basically ends up who outscored who? This time it was the mighty Oklahoma Sooners that beat the Baylor Bears by 33 points!
The Sooners quarterback, Kyler Murray didn't begin the game due to being late for one practice the previous week. But, when he came in (the second offensive series) he made up for the waiting by passing for his season-high 432 yards and throwing 6 touchdown passes. Murray also rushed for a touchdown.
On the opposite side, Baylor quarterback, Charlie Brewer passed for 400 yards and 2 touchdowns.
The Sooners who barely escaped with a win over Army last week looked as tho' they had something to prove and prove they did. Oklahoma put up more than 600 yards of total offense with 432 yards coming from the passing game.

Oklahoma welcomes Texas 10/6/18 at 11 am
#7
Stanford 17 – Notre Dame 38 Notre Dame was expected to win the game by 5
Regular Season matchup

This was another clash of Titans and the Irish proved me wrong. I have said all season that I thought the Fighting Irish were over-rated. Not anymore, they changed my mind with a decisive victory over the #7 ranked Stanford Cardinal.
The Irish had one player at almost 100 yards rushing and two who well surpassed the 100-yard mark.
The Notre Dame defensive line was fantastic in their dominance over Stanford's offensive line.
Stanford welcomes Utah 10/6/2018 at 9:30 pm
#8
Notre Dame 38 – Stanford 17 the 5.0 spread was covered
Regular Season matchup
Here are some stats from this game:
First downs – ND – 29 Stanford – 10
Total yards – ND – 550 Stanford – 229
Rushing yards – ND – 272 Stanford – 55
Passing yards – ND – 278 Stanford – 174
Penalties – ND – 6-67 Stanford – 7-50
Time of possession – ND – 34:23 Stanford – 25:37
The Stats make it clear to see Notre Dame's dominance.
Notre Dame travels to Virginia Tech on 10/6/2018 at 7 pm
#9
Penn State – 26 Ohio State – 27 Ohio State did not cover the 3.5 Spread
Regular Big10 Conference game
Stats from this game:
First downs Ohio State – 21 Penn State – 22
Total yards Ohio State – 389 Penn State – 492
Yards rushing Ohio State – 119 Penn State – 206
Yards passing Ohio State - 270 Penn State – 286
Penalties Ohio State – 10 – 105 Penn State – 7 – 64
Time of possession Ohio State – 28:21 Penn State – 31:39
It is clear from the Stats this was a very close, well-matched game. On paper, Penn State should have won. It's the Scoreboard that counts.
Penn State has a bye week for 10/6/2018
#10
Auburn 24 – Southern Miss 13 Did not cover the 27.0 spread
Cupcake game
The most noteworthy thing in this game was the almost 3-hour weather delay late into the second quarter due to lightning in the area.
Auburn's offensive line got changed around quite a bit due to injuries, the center, and both tackles were taken to the locker room and replaced. This hurt Auburn's ground game as the Tigers gained only 96 yards of rushing. They have gained less than 100 yards rushing for two consecutive games.
Another factor that hurt Auburn's game was penalties. The Tigers lead the conference coming into this game in penalties yards. This game had 9 penalties for 78 yards.
Auburn was able to force Southern Miss to cough the ball up three times. This helped the Tigers go on to victory one more week.
Auburn travels to Mississippi State 10/6/2018 at 6:30 pm
This is my Top Ten recap for this past Saturday. Sorry, I am so late getting it out. Pete and I suffered a lightning delay of our own as an electrical storm toasted our modem. We are back up and running now.
See you after this week's games!
Mama