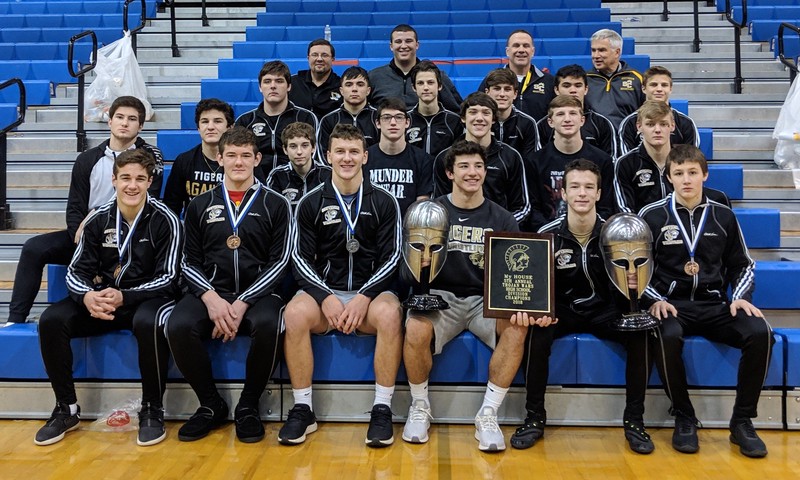 By Marc Malkoskie
Press Enterprise Writer
FRANKLIN TWP. — Around the area, Southern Columbia is notorious for being a "football school."
And rightfully so, as the Tigers football program has won a PIAA-record nine state titles, and has won an astonishing 71 consecutive regular season games.
However, a new trend is emerging in Catawissa, as the school is starting to see success at the state level in other sports once again.
Back in November, Southern's girls soccer team earned the first state gold medal for any girls program at the school, defeating Freedom Area in a 3-2 overtime thriller.
Now, the Jerry Marks-coached wrestling program sits just four wins away from its first team title at the state level, dating back to the creation of the team championships back in 1999.
The wrestling program had the most team points at the 1984 individual state championships (Marks was a freshman on the team), but still awaits its first title at the team championships.
This weekend, Southern will have a chance to become the first school in District 4 history to win three team titles in the same school year.
The feat has only been accomplished 18 other times throughout PIAA history by 12 different schools.
Among the 12 schools are seven public schools. With a gold medal this weekend, Southern would be the smallest public school in terms of attendance to ever win the "triple crown."
"One of the special things is the amount of multi-sport athletes are school has," Marks said. "Not many kids are focusing on one sport. It helps when different athletic programs get to share the talent our athletes provide."
North Allegheny has accomplished the feat a state-record four times, and was the first to do it back in the 1990-91 school year.
The school, located about 15 miles north of Pittsburgh, won an all-time record five team titles last school year (girls golf, girls tennis, girls volleyball, boys swimming and boys volleyball), and has already won four more this school year.
One consistent trait Southern's three most successful programs has in common is that the revolution into a state-known name didn't happen overnight.
In wrestling, Marks, as well as assistant coach Kent Lane, have put in countless hours over the last ten years rebuilding the program to champion-caliber material, far advanced from struggling to fill even half a lineup back in 2010 to 2012.
"It took time to build these programs," Southern athletic director and football coach Jim Roth said. "With the dedication Jerry and (girls soccer coaches) Derek and Jen have put into these programs over the years, the results are really being seen."
Last weekend, the program became the first in District 4 Class 2A history to win the district title three years in a row, cruising to a fourth consecutive state tournament where it has second and third-place finishes the past two seasons.
In girls soccer, the Tigers qualified for district playoffs four years in a row following their state runner-up finish in 2013, before winning a district and state championship this year.
Another similarity is the abundance of extraordinary athletes the school possesses right now, particularly in its class of 2020.
"(Football, wrestling and girls soccer) are all going through a run of some outstanding athletes," Roth said. "The junior class is probably the best we've ever had. When these great athletes from different sports share the same weight room and get to see how hard they're all working, those interactions help boost all the programs. They feed off the success of the other programs, improving the overall success of our sports."
Weekend preview
This weekend's state tournament will be just the second tournament Southern will enter at full strength this season, as Gavin Garcia (145 pounds) and Cade Linn (160) have recently returned from injury.
The Tigers (18-0) cruised through the district tournament at Milton last weekend, allowing an average of under 14 points per match.
All 14 of Southern's projected starters are at least three matches over .500 on the season, making it tough to score bonus points against them at any weight.
According to Marks, the Tigers have outpinned their opponents a remarkable 170 to 25 this season, showing the unmatched force Southern has been on the mat this year.
A first-round bout District 10 runner-up Conneaut Area shouldn't be much of an issue, as the Eagles aren't particularly strong at Southern's toughest weights. This match will start at 2 p.m. today.
The match of the day will likely be on the other side of the 2A bracket, where District 4 runner-up Muncy will have its hands full against District 11 champ Saucon Valley.
It wouldn't be much of a surprise if the Tigers end up meeting District 10 champ Reynolds in the first-place match again, a potential rematch of last year's final, which Southern dropped 30-25.
"Everyone on our team knows their role," Marks said. "We wrestled in some tough tournaments already this year: Trojan Wars, Escape the Rock and Ultimate Warrior two weeks ago. We've tried to get our boys the toughest competition possible, that way we go into this weekend having already battled a lot. There's a reason this year's team poster is titled 'Whatever it Takes.'"
Marc Malkoskie covers sports for the Press Enterprise. Follow him on Twitter at @mmalkoskie for updates on Southern at this weekend's state tournament.