" Gridiron Dynasty is your chance to run a college football program! As coach, you'll be responsible for bringing in a successful recruiting class while working within a budget and competing against hundreds of other coaches. Once your team hits the field, it'll be your job to create and adjust practice plans, game plans and depth charts in the hopes of bringing your school the national title (and the prize that comes with it)!
After the season, you may have the opportunity to move on to another school, but only you can decide how best to build your own Gridiron Dynasty!"

I played this college football simulation game Gridiron Dynasty for years, then I learned about a new innovative tech called blockchain and cryptocurrency. I was so captivated by the idea of this new tech that I gave up all of my Gridiron Dynasty teams to devote full time into learning about blockchains, investing in the technology, and earning cryptocurrencies.
I have been away from the game for almost two years but I have still received messages and phone calls from my friends over there all along. As we are beginning to gear up for another football season here in the United States I started missing this game, so a few weeks ago I took back one of my former teams and started the process of rebuilding it once again into a powerhouse program.
I made it through my first recruiting season with only a couple of recruiting mistakes and I put in a new practice plan and developed all of my formations and playbooks for the offenses and defenses that I like to use. The season is now well underway and my team is experiencing a lot of success so far, mostly due to a large Senior class that a previous coach had recruited. Here is a screenshot that shows what the game looks like and you can see the halftime score of the game that is currently in progress.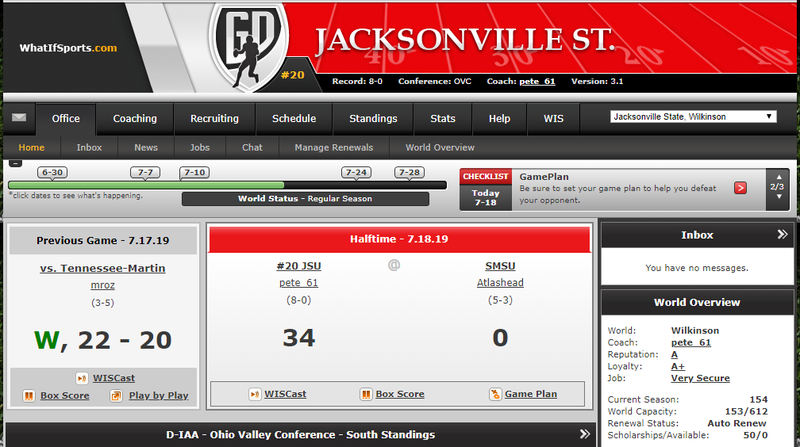 Over the years of playing Gridiron Dynasty I have won 126 Conference Championships and 58 National Championships. I also hold the record for most consecutive National Championships at a single school. I believe that this makes me an expert on this one particular game.
I tried to get all of my friends on Gridiron Dynasty to join Scorum back when we first launched the platform, but few were even interested enough to look at it back then because of all the negative news about cryptocurrencies that were being published at that time. I hope that one day they will see that this technology is the wave of the future and that it is here to stay, but for now that is just not happening.
I did also send a letter to the owners of What If Sports and Gridiron Dynasty explaining to them the benefits of blockchains and showing them how beneficial it would be for them to move this wonderful game onto one of the emerging blockchains. I could just imagine actually getting payed to coach a team just like a real world coach, the more games and championships you won the higher your pay would be. Gridiron Dynasty was also designed for in house betting on the virtual games, which has not been in operation for my entire career there. But because of the built in blogging and betting system of this game I see it as a prime candidate for a move over to the Scorum blockchain, what a fantastic use case and addition it would be to the Scorum platform.
So now you know the second reason that I wanted to write this blog, the first of course was to get to brag a little and self promote the fact that I am actually good at something, I'm sure by now that you have all been wondering about that. When looking into the future of Scorum these are the types of Apps that I could see potentially operating on the Scorum blockchain. Can you imagine a series of virtual games like this for just about every sport in the world, and built on top of the Scorum blockchain?
If there were as many as ten active Gridiron Dynasty coaches with accounts here on Scorum I would consider writing a how to manual and give away many of my secrets to success in this game. I hope that one day this actually happens, but even more I hope that one day I will be playing this game as an integral part of the Scorum Platform.