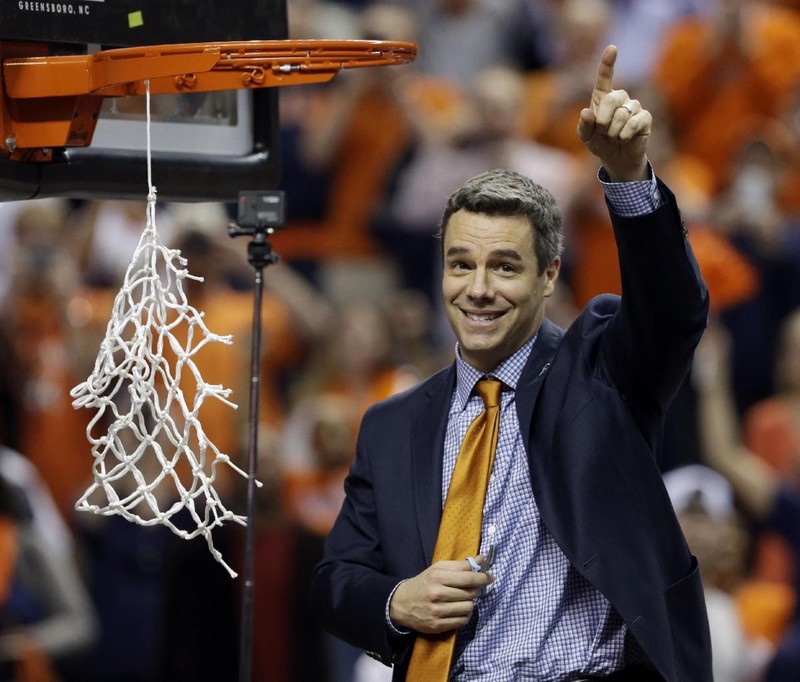 We had a couple of great games yesterday to determine the first half of the Final Four. When the dust settled, both Virginia & Texas Tech emerged victorious, dispatching Purdue & Gonzaga respectively. With the Zags loss, that means two of the #1-seeds have bowed out. Both games were competitive, back and forth affairs. There's plenty to cover from these two thrillers, so let's jump right into it!
It took a minor miracle and a buzzer beater for Virginia to force overtime against Purdue. Carson Edwards was once again on fire for the Boilermakers, leading a 7-0 run by himself at one point in the second half to erase a 6-point deficit and put Purdue back on top. The Cavaliers trailed by as many as 10 points in the first half, but cut that lead to just 1 at the break.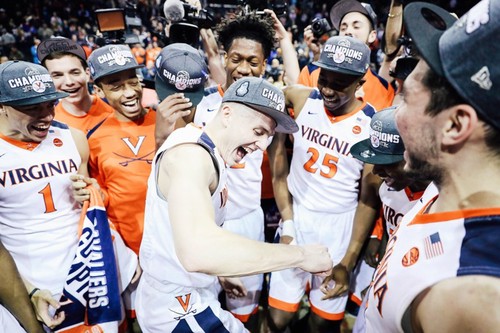 The second half saw Virginia take control of the game, but after Edwards' above mentioned scoring burst, it was back and forth the rest of the way. A bank-shot three-pointer went for Edwards with just 1:07 to go that put Purdue back on top, 69-67. A missed 3 by Edwards on Purdue's next possession was corralled in by the Boilermakers and they had a chance to build a 4-point lead from the foul-line with just 16.9 to go. After making the first, Ryan Kline was short on the second, leaving the game 70-67.
Instead of giving Virginia a chance to launch a 3 to tie it, the Boilermakers elected to foul with just 5.9 seconds left and send Ty Jerome to the line. Jerome hit the first, and then needed to miss the second and hope for an offensive rebound put-back. He did just that, clanging the second attempt off the front iron. 6'9" Mamadi Diakite was sent in by Tony Bennett for his rebounding ability and he was able to get a hand on the miss and tip it back out past the half court line where Jerome was able to track it down. With the clock ticking down, Jerome fired a bullet of a pass back to Diakite from just inside the elbow where he released the ball immediately to beat the buzzer. His high-arching shot caught nothing but net and Virginia had managed to force overtime in the most dramatic of endings.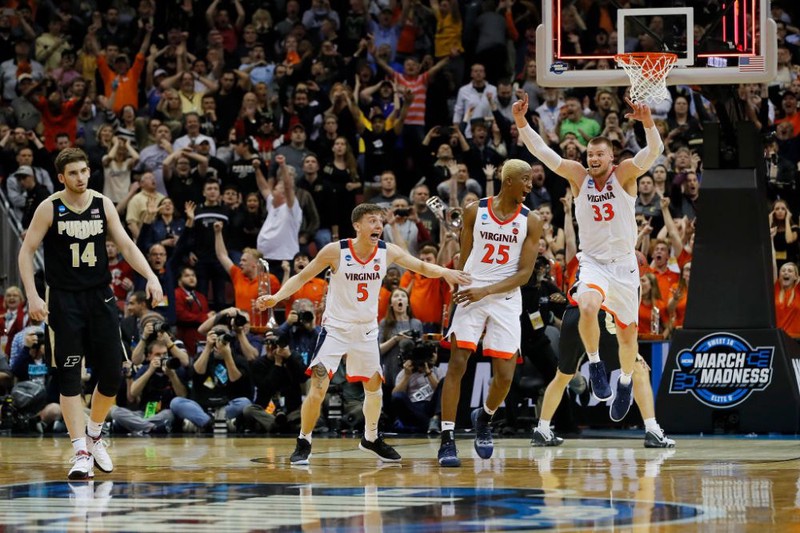 In the extra period, the teams once again went back and forth, but Purdue went cold in the final minute of the extra period, and ultimately a turnover by Edwards on a bad pass with under 2.0 seconds left in OT seeled the victory for the Cavaliers. The Boilermakers were hoping to get a tying 3-pointer, but it wasn't to be.
For Carson Edwards, it was a terrific tournament, as he once-again poured in 42 points, the same point-total he had from Purdue's 2nd round demoliton of Villanova. For the tournament, Edwards averaged a sizzling 34.8 points per game over the 4 tournament games, scoring 26 against Old Dominion, 42 against Villanova, 29 on Tennessee, and 42 again yesterday on the top defensive team in the nation mind you, in Virginia. What a tournament it was for the Senior. Rarely does the tournament MVP come from a team that doesn't make it to the Final Four, but Edwards would certainly be deserving. He absolutely dominated this tournament.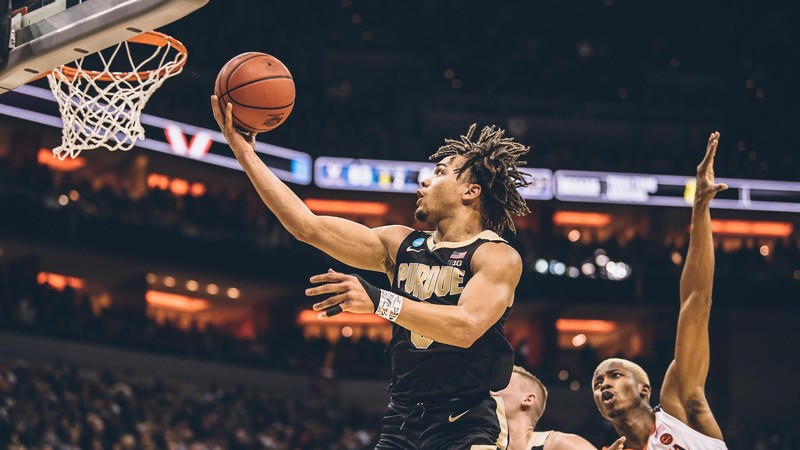 On the other side, it has to feel even sweeter for Tony Bennett and his staff after what happened to the Cavaliers last year. Bennett has had his share of very good teams while at Virginia, and had a couple of quality squads at Washington State before coming to Charlottesville, but have had several shortcomings in the "Big Dance". None-more-so than last year's historic loss to 16-seed UMBC. This season marks the 10-year mark since Bennett came to Virginia, and now the Cavaliers and their faithful are celebrating with their first trip to the Final Four since 1984.
It was nineteen years ago that his father, Dick Bennett, guided the Wisconsin Badgers to the Final Four as an 8-seed. The victory seemed especially satisfying for both father & son. Tony got his collegiate coaching start on his father's staff at both Wisconsin & Washington State. Now he will have an opportunity to cut down the nets one more time - as National Champs.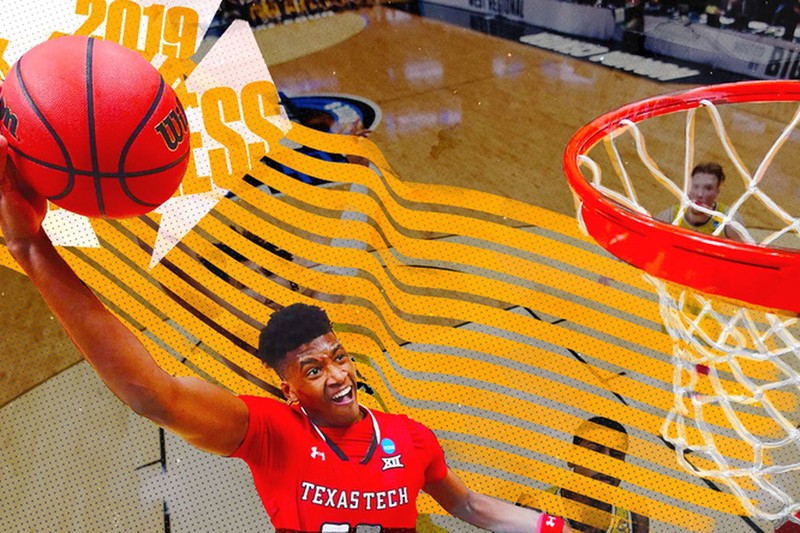 On the other side of the bracket, Gonzaga and Texas Tech did battle in the West region. The Zags led 37-35 at the break. The first half was a tight, back-and-forth affair, with neither team leading by more than four points. The second half proved to be more of the same, and after Texas Tech went on a quick 8-0 spurt midway through the second half, they had grabbed their first lead since the break. Tech maintained a slim lead until the 5 minute mark when a 3 from the Zags tied it up at 58 all. From there, Texas Tech's talented backcourt took over and gave them a 5 point lead. That lead grew to 7 at 69-62 with just under a minute to play, but the Zags never backed down, getting some turnovers and a timely three-ball, to cut it down to 2. The Red Raiders made their free throws, however, and Gonzaga was unable to get another long-ball to go down, as Texas Tech held-on for a 75-69 victory. The Bulldogs joined North Carolina as #1-seeds to be eliminated. Duke will attempt to avoid that fate when they battle Michigan State later today.
Texas Tech's talented backcourt trio of Jarrett Culver (19pts, 5reb), Matt Mooney (17pts, 5ast), and Davide Moretti (12pts) led the way for the Red Raiders. It is the first Final Four appearance in program history. Last season marked the first time the program had reached the Elite 8, as head coach Chris Beard was able to lead them all the way to the last four in just his third season in Lubbock. They will await the winner of today's Duke-Michigan State matchup, which should be an epic battle.
Hats off to both Texas Tech & Virginia for grinding out hard-fought victories yesterday to punch their tickets to the Final Four. We have two more outstanding games today, with Kentucky and Auburn in action and Duke-MSU to come later today. Enjoy the games, and as always, thank you for your support! I would love to hear your thoughts below, for me, I'm especially happy for Tony Bennett. I love how his teams play the game and he deserves it. As always, happy reading & writing!!