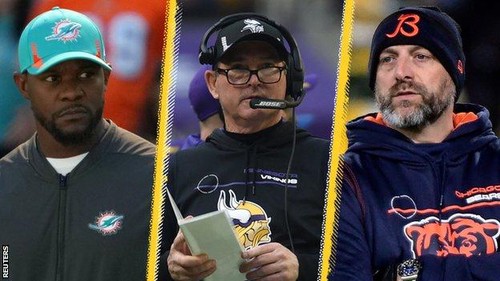 These three NFL coaches from Minnesota Vikings (Mike Zimmer), Miami Dolphins (Brian Flores), and Chicago Bears (Matt Nagy) were all axed on a day that is known for its history of sacking.
"Black Monday", a term which was first used in the late 1990s by a newspaper published in the United States is a day after the final game of an NFL season where underperforming coaches and managers are sacked. This season was no different as the NFL's first 17 games finalized with the surprising part being the sacking of Brian Flores who's Dolphin went 9-8 this season with a fair enough roster.
The Bears and Vikings had a disastrous season which lead to GM Ryan Pace and Rick Spielman also getting the boot.
Zimmer's Vikings have missed the NFL playoffs in three of the past four NFL seasons since his appointment in 2014. His sack was made for the Vikings to get someone that will elevate them to championship contenders. While 2018 coach of the year Matt Nagy got the ax with a 34-31 record in his fourth season with the team.