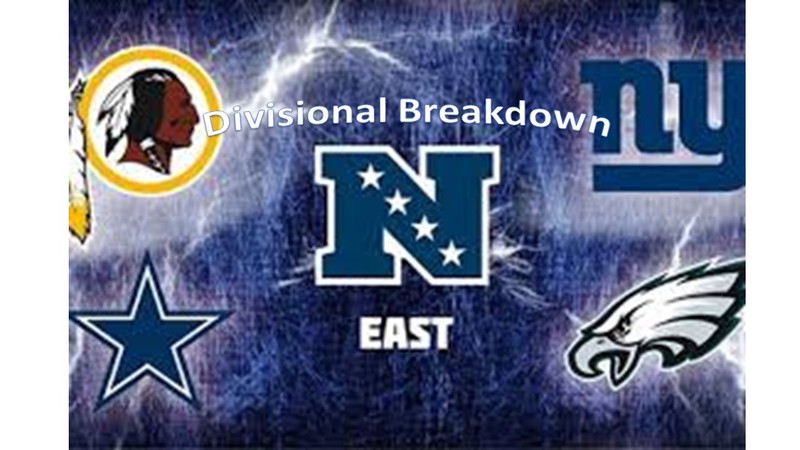 In my upcoming articles, I will be analyzing each division in the NFL. I'll be discussing top fantasy players for each team, overall record prediction, and how the division ranks as a whole for this upcoming NFL season.
Starting off will be the NFC East. You of course have the reigning Super Bowl champions Philadelphia Eagles, up and coming Dallas Cowboys, Odell Beckham Jr. and the New York Giants, and the lagging Washington Redskins.
Let's start with the Champs:
Philadelphia Eagles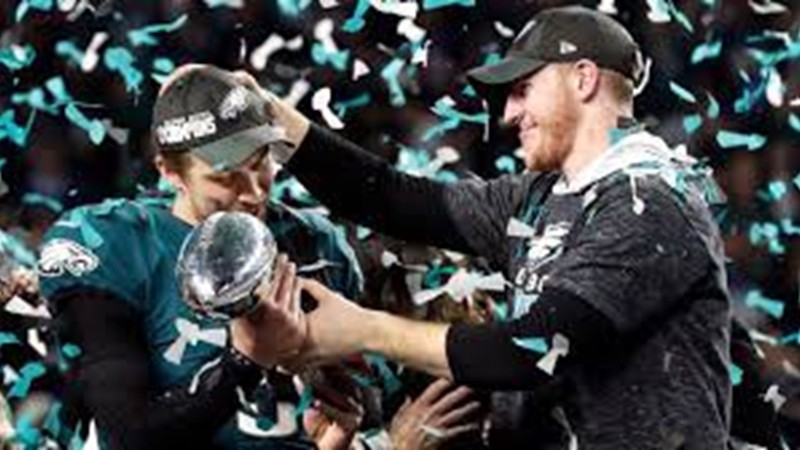 In 2017, the Eagles finished 1st in the division with a 13-3 record, before going on to defeat the Patriots in Super Bowl 52. Nick Foles led the team from the 3rd quarter of Week 14 all the way to the Super Bowl due to Carson Wentz tearing his ACL and LCL.
The team adopted the nickname of "Underdogs" because they were never favored in a game throughout the playoffs.
This season, Wentz should return to the helm of starting quarterback and lead this Eagles team back to the playoffs, with Nick Foles as his backup once again.
Key additions- Michael Bennett, Haloti Ngata, Mike Wallace
Key departures-Brent Celek, Trey Burton, Beau Allen, Vinny Curry, LeGarrette Blount, Torrey Smith
Fantasy Impact Players
Carson Wentz
With Wentz back at starting QB, he should pick right back up where he left off. He may not have the same caliber of talent around him as last year, but his weapons are still something to pay attention to.
Alshon Jeffery
After signing a one year deal last year with the Eagles, Jeffery shined for his new team, catching 9 touchdowns. This year should be no different. I expect Jeffery to up his stats with another year in the Eagles system.
Jay Ajayi
After a surprising trade with the Dolphins last season, Ajayi performed well while splitting time with Blount. This year, he'll share with 2nd year back Corey Clement and Darren Sproles, who is returning from injury. But with Ajayi as a clear starter, I expect him to look like he was with the Dolphins and run free through the defense.
Nelson Agholor
The Eagles picked up the fifth year option on Agholor because he exploded onto the scene last season, catching 8 touchdowns. With him finding his groove in the slot, he should be freed up by Jeffrey and Mike Wallace on the outside.
2018 Record: 13-3
Of course I'd want the Buccaneers to beat them in Week 2, but of course that's an unrealistic idea. I have them losing to the Panthers, Saints, and Rams. Unless this Eagles team proves to be unstoppable and destroy everything in their path, these games will be be loses. Cam Newton and Drew Brees are no joke and shouldn't be looked past, and this new Rams team just looks scary. I believe the Eagles will clinch the top seed in the NFC and make another Super Bowl push.
Dallas Cowboys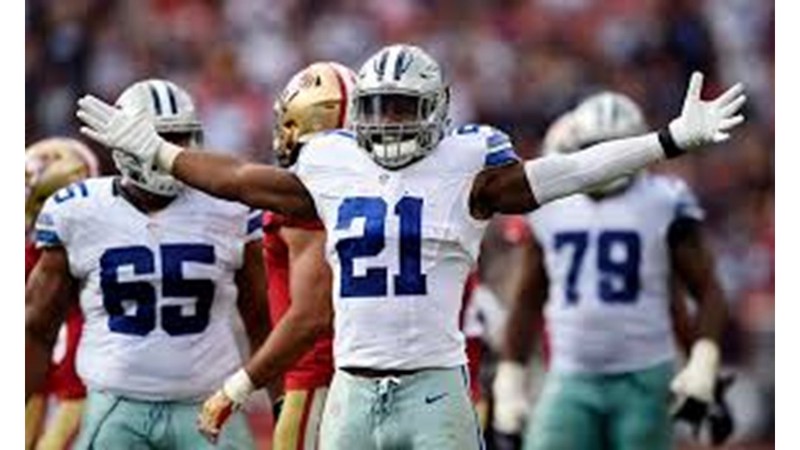 The Dallas Cowboys finished last year with a 9-7 record, missing the playoffs one year after going 14-2. Ezekiel Elliott will play all 16 games this year after missing the final 6 games due to suspension and the receiving corp looks a bit different.
The Cowboys didn't make too many moves for starting players. They went out and got two new receivers to replace the two they lost, and picked up some depth at other positions.
Key additions- Allen Hurns, Cameron Fleming, Tavon Austin
Key departures- Dez Bryant, Jason Witten (retired)
Fantasy Impact Players
Ezekiel Elliott
Of course we'll start with the obvious. Elliott will be one of the best players in fantasy football because of his freakish skills as a downhill runner. He should be out for revenge against the NFL for how they treated him and will take it out against opposing defenses.
Dak Prescott
After an unbelievable rookie year, Prescott followed it up with another solid season, though he threw 13 interceptions. With the loss of Witten, Dak no longer has that safety net for an easy 5-6 yards. And with Dez gone, the tallest receiver on the team is 6'2. He'll have to work on his long ball if he wants to get it to Austin or Hurns.
Allen Hurns
Coming in free agency from Jacksonville, Hurns will have a more complete quarterback in Prescott. Hurns had a bit of a dropoff the past 2 seasons, but should get plenty targets if the defense tries to stack against Elliott.
Tavon Austin
Austin is primarily used as an end around runner, taking reverses or quick screens. He's currently listed as a running back on the Cowboys' depth chart. Austin has big play potential, but I wouldn't waste a high pick on him.
2018 Record: 8-8
They play the Eagles twice and the NFC South. They have a tough schedule, but could take some games I'm on the fence about. They have the potential to be good, we'll just see.
Washington Redskins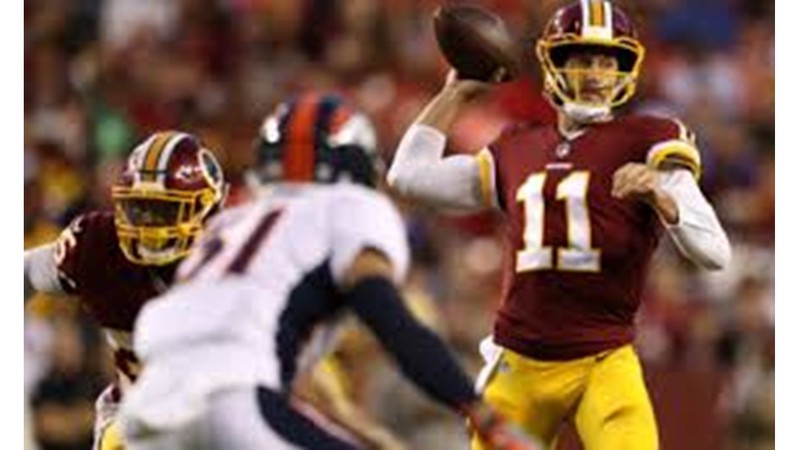 The Redskins finished last year at 7-9, a disappointing season for sure. The drama that was made around Kirk Cousins didn't help the team either. Now, the team has proven veteran Alex Smith at quarterback and a revived Adrian Peterson at running back. 2nd round pick Derrius Guice looked to be the next star running back before ending his rookie year because of a torn ACL in the first preseason game.
Key additions- Alex Smith, Adrian Peterson, Paul Richardson
Key departures- Kirk Cousins, Mack Brown, Terrelle Pryor, Kendall Fuller
Fantasy Impact Players
Alex Smith
Smith will take over in Jay Gruden's offense that is known to be run-and-gun. Smith is a smart player who can read defenses very well. This new offense should benefit him. But with few weapons on the outside, it'll be tough to justify drafting him with so many other quality quarterbacks.
Jordan Reed
Reed's career has been up and down due to injuries. He is an excellent play maker when he's healthy, he just has to stay healthy. But if he does play, he's a good tight end to pick up.
Adrian Peterson
With a backfield full of young running backs, Peterson should be the work horse this season. After being traded to the Cardinals from the Saints last season, Peterson took off against the Buccaneers and didn't look back. This year should be no different.
2018 Record: 7-9
The Redskins, like the Cowboys and Giants, have to play the Eagles twice as well as the NFC South. This tough schedule, along with a skimpy offense, will have a tough time grinding out wins.
New York Giants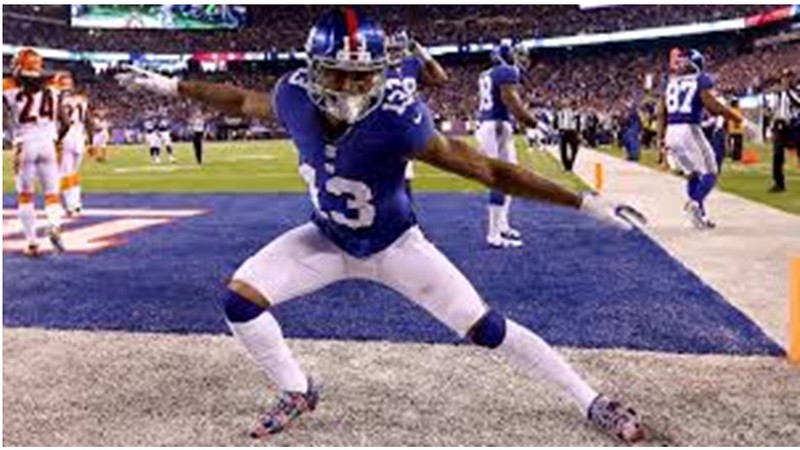 The Giants finished last season 3-13, well off expectations. Odell Beckham Jr. fractured his ankle in Week 5 and was out for the rest of the season. The offense was stagnant most of the year once OBJ was out. They did draft top prospect Saquon Barkley in this year's draft and he looks to be the real deal so far. They bolstered up the offensive line for him so, if they can get the ball moving, they may win more than 3 games.
Key additions- Patrick Omameh, Nate Solder, Jonathan Stewart
Key departures-Brandon Marshall, Orleans Darkwa, Weston Richburg, Justin Pugh, Jason Pierre-Paul, Dominique Rogers-Cromartie
Fantasy Impact Players
Saquon Barkley
I tend to avoid drafting rookie running backs with a high pick. However, I'm always wrong. Barkley was an animal in college and performed well in his only game so far in the preseason. Expect Barkley and this new offensive line to perform well.
Odell Beckham Jr
OBJ is always going to get catches and yards. He is recovering from a fractured ankle, which can linger if not properly taken care of. He can hurt defenses vertically or on short routes and run right past defenders. This is usually a safe bet for the first or second round, barring injuries.
Evan Engram
Engram lit up the field in his rookie season, catching 6 touchdowns and over 700 yards. And with OBJ back in the lineup, look for him to find open looks. Engram is one of the top tight ends in the league for fantasy.
2018 Record: 6-10
The offensive weapons will earn some wins in those one score games, but the defense needs to prove themselves this year. The defense finished near the bottom in every category last season and didn't do much to address it in the offseason.
Overall Division Grade: B-
The Eagles and Cowboys are really the only threatening teams in this division. The Redskins and Giants have work to do, but the Giants seem to have the future set up on their roster.
I wouldn't be surprised to see the Redskins shake up the division though. They have some veterans on the offense that are known to be clutch.
I believe the Eagles will make it back the NFC Championship Game and the Cowboys will be vying for a wildcard berth.
Check back for my other division breakdown articles coming soon!