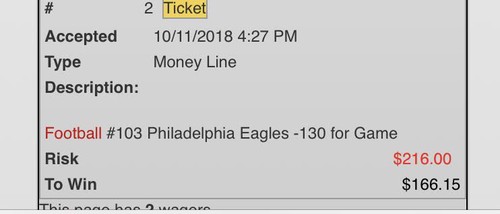 Just wanted to reach out to my followers and send them the message to quickly make some extra money from the book. All my research today says that Wentz and the Eagles are going to crush the Eli Manning and OBJ combo. While the pass d on the eagles is really bad the run d is super solid. Match ups of Wentz vs Manning in NY with the bad weather i dont see going to the air being as frequent meaning the run will have to work, too bad for the giants as their run game is less than average.
Taking Eagles ML today
Don't get fooled by the -1.5 or -2 points its not worth the juice if you're layin' -120 or -115 just suck it up at -130 and take the Eagles. You can thank me in 4 hours making this my pick tonight.