By Zane Miller
On Sunday, January 21st, 1979, the Pittsburgh Steelers defeated the Dallas Cowboys 35-31 in Super Bowl XIII to win the 59th championship in NFL history. It was the third championship for the Steelers franchise as Steelers quarterback Terry Bradshaw won the Super Bowl MVP Award. The game was held at the Orange Bowl in Miami.
Bradshaw also won the 1978 MVP Award with 28 passing touchdowns and 2915 passing yards, while Broncos linebacker Randy Gradishar won the 1978 Defensive Player of the Year Award.
The 1978 season was also the first to use the 16-game regular season, which has been utilized every season since except for 1982 and 1987, both of which were shortened due to player strikes.
Out of Playoffs: San Diego Chargers (9-7), Seattle Seahawks (9-7), Oakland Raiders (9-7), Green Bay Packers (8-7-1), New York Jets (8-8), Washington Redskins (8-8), Cleveland Browns (8-8), Chicago Bears (7-9), New Orleans Saints (7-9), Detroit Lions (7-9), St. Louis Cardinals (6-10), New York Giants (6-10), Buffalo Bills (5-11), Baltimore Colts (5-11), Tampa Bay Buccaneers (5-11), Kansas City Chiefs (4-12), Cincinnati Bengals (4-12), San Francisco 49ers (2-14)
Out in first round: Miami Dolphins (L 17-9 to Oilers), Philadelphia Eagles (L 14-13 to Falcons)
Out in second round: New England Patriots (L 31-14 to Oilers), Denver Broncos (L 33-10 to Steelers), Minnesota Vikings (L 34-10 to Rams), Atlanta Falcons (L 27-20 to Cowboys)
Out in third round: Los Angeles Rams (L 28-0 to Cowboys), Houston Oilers (L 34-5 to Steelers)
Most passing touchdowns: #12 Terry Bradshaw (Steelers)- 28 TD
Most rushing touchdowns: #35 David Sims (Seahawks)- 14 TD
Most receiving touchdowns: #83 John Jefferson (Chargers)- 13 TD
Most interceptions: #27 Thom Darden (Browns)- 10 INT
Best field goal percentage (min. 11 attempts): #1 Garo Yepremian (Dolphins)- 19 for 23, 82.6%
Scoring Summary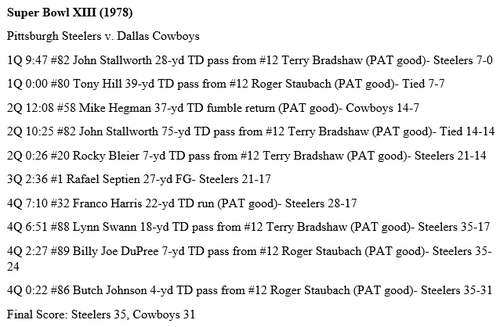 Link to stats database: https://www.pro-football-reference.com/years/1978/
Follow me on Twitter: https://twitter.com/Zmiller_82