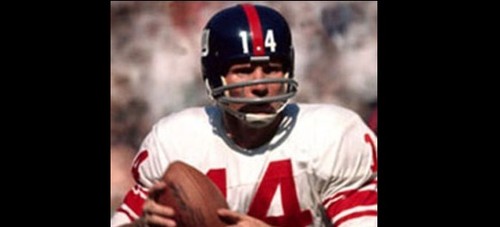 By Zane Miller

New York Giants quarterback YA Tittle has been previously covered on this series, as he went 12-2 in 1962. He would keep the momentum going into 1963, taking an 11-2 record to lead the Giants to their third consecutive NFL Championship Game appearance.
Tittle would earn his best performance of the season on November 3rd, although there would be tough competition for the honor as he threw for at least one touchdown in every one of his 13 regular season starts. In this particular road contest against the St. Louis (now Arizona) Cardinals, Tittle threw four touchdown passes and 295 yards in the Giants' 38-21 triumph to improve to 6-2 on the year.
Once the 1963 campaign was finished, Tittle found himself with 36 touchdowns and 3,145 passing yards, setting himself on top of the touchdown pass category for the third time in his career as he threw for eight more TDs than runner-up Charley Johnson of the Cardinals. Although Tittle was unable to lead the league in passing yardage, he still claimed the third spot on the list with 336 yards less than league-leader Johnny Unitas of the Baltimore Colts, and just 135 behind second-place Johnson. Due to these accomplishments, Tittle earned first-team All-Pro honors for a third time, along with the 1963 MVP Award.
The Giants traveled to Chicago to face the Western Conference champion Bears for the title, although bitter cold conditions stifled any progress offensively for both sides. Nevertheless, Tittle was able to get New York on the board in the first quarter as he found wide receiver and fellow future Hall of Famer Frank Gifford for the game's opening score. However, the Giants would not be so fortunate for the other three quarters, as this was the only time the team would find the end zone. Tittle's quarterback counterpart Billy Wade ran for two touchdowns, including the eventual game-winning score in the third quarter to give the Bears their first championship since 1946 and keep New York out for the third year in a row. After Tittle retired following the 1964 season, his #14 jersey number would be retired by the Giants the following season and would be inducted into the Pro Football Hall of Fame in 1971.
With all of the statistics in mind, I grade Tittle's 1963 season at an A, as he led the NFL in touchdown passes by a significant margin and managed a top-three finish in passing yards, although he would come up short in the championship matchup.
HEWT Running Counter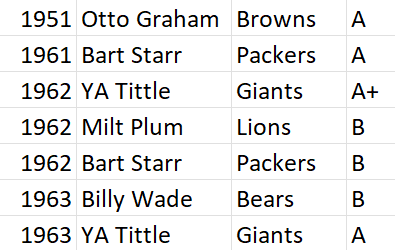 Follow me on Twitter: https://twitter.com/Zmiller_82